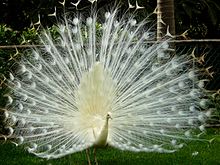 These types of birds are mostly referred to as peafowls in general.The male peafowl is the one mostly known as the peacock ,the female ones are usually called the peahens.
The peacocks are mostly known for their piercing calls and most importantly ,their beautiful and extravagant plumage .Unlike the humans , during mating season it is the female peafowls (peahens) that chose a male mate or partner with the characteristics that are desirable to her and that which she wants passed on to her chicks .The peahens are mostly attracted to the peacocks for their eye spots to the blue berries in their plumage .
If the beautiful plumage of the peacock is damaged,it sheds the whole plumage and is able to grow another one naturally within a period of around three(3) months.Furthermore these peafowls are mostly reared for ornamental purposes and tourist attraction .
The peafowls mostly have a lifespan of between 10years to 25years .Their average weight also ranges between 3.8kgs to 6kgs.
The peafowls are also known to have the following colours;Blue,green,peach,white,purple,cameo,charcoal,opal,bronze, midnight,Jade,taupe,sonjas violets, Hazel and indigo.
A group of peacocks is called an"ostentation"or a "muster".When faced with danger ,they can also fly and reach a speed of up to ten miles per hour ,but they can't fly for long distances,they only fly for Short distances.
Content created and supplied by: Muthugumibrian5 (via Opera News )