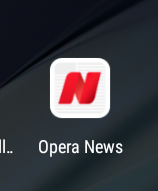 Its funny how you read news from Opera news when others are making money or should I say cash money on Opera news.
Just in case you are a normal person what should be in your mind right now should be ''what am I supposed to do to earn money like my fellow Opera news users?''
If this isn't in your mind,then I am really sorry for that!Do you love reading?Are you fluent in English?Do you love following top stories on headlines or even following up developing news?If yes then this is the right spot for you!
Have you ever heard of Opera news hub?Have you?If no then this is a platform that allows users to create and share top stories on headlines.The best part is that you can earn money from it!
Today, I'll inform you of the requirements needed to sign up to Opera news hub and start earning.
1.A Google or Facebook account.
2.A bank account
3.Identification card
4.Registered phone number
5.You(The author)
Today I'll not be able to guide you through the process,I'll only do so once I get 20 comments and 10k clicks from this article.
So if you want to start earning please share, like and feel free to comment down below..
Please follow my channel and stay safe.
Content created and supplied by: [email protected] (via Opera News )