Ronaldinho is undoubtedly one of the greatest football legends of our time. He is known for his speed and creative skills on the pitch. He is a Brazilian national who once lived in the slums and was inspired by his brother to get into the football world.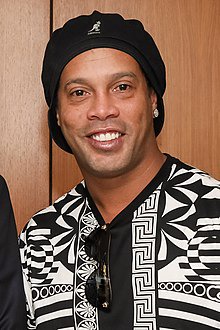 Ronaldo De Asis Morera was born on 21st March in the year 1980. He is a brother to Roberto who was also a footballer and has one sister. Having shown interest in football at an early age, his father signed him to a local football club. It is at the club where he was nicknamed Ronaldinho a name which implide his size. He was very small but had great skills. His size wasn't an excuse for him to feel intimidated and leave out his passion.
Ronaldinho loved dribbling so much that even after his training sessions, he would dribble his dog. His father also inspired him a lot. He taught him how to shoot the ball. The simple skills he learnt in his childhood would drive him his entire life. Despite criticism, Ronaldinho played his own way. He invented his own skills and did everything passionately. His impactful smile would tell it all.
Being such a great footballer, he must have achieved a lot of great things. Some of his memorable achievements could be when he played in France, when he played for Barcelona and most importantly, the world cup win in the year 2002.
The story of this football legend definitely inspires many of us that despite our humble beginnings, we can make it to the grandest stages. All we need to do is to keep working on what with love with the greatest passion. Even when everything gets rough, we should never turn our eyes away from our destiny.
Content created and supplied by: Extra~musica (via Opera News )