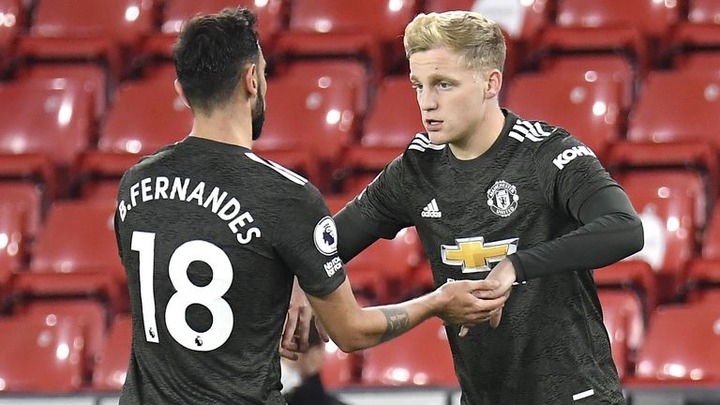 Manchester United's Bruno Fernandes and Donny van de Beek. Photo | Skysports
A top Manchester United midfielder has been told to leave the club if he wants to regain his confidence and stop being used as a 'side dish'.
In a report by the Daily Mirror, Jermaine Jenas asked Donny van de Beek to leave the manchester club if he wishes to become a special player and not just an option.
The 23-year-old Dutchman has only made two Premier League starts since his arrival from Eredivisie champions Ajax Amsterdam. He was handed a rare appearance in the FA clash against Wet Ham but was substituted later.
"It is a tough one, and really strange that he chose to go there in the first place. You can only get the best from players like Donny if you fill them with confidence. This can appen if you give them constant playtime, to make them feel as part of a project and not just options," he said.
"Donny was a threat at Ajax, always poaching for goals and was a threat for any opponent. He played his heart out and scored goals. Now, he plays safe and the continued comparisons with other players is doing him no good. He needs to move if he is to become a special player and regain his confidence," he added.
Content created and supplied by: The254hubnews (via Opera News )