Two European giants faced-off in the champions league as Barcelona hosted PSG at Camp Nou. The match was fascinating as both teams were on form in their respective leagues. Maurizio Pochetinno and Ronald Koeman had champions league debut in their respective clubs. 
The match ended 4-1. The goals were scored by Moise kean and Kylian Mbappe hat-trick for PSG and Lionel Messi for Barcelona. 
Formations 
Barcelona assumed a 4-3-3 formation with Messi deep as PSG used 4-2-3-1 with Mbappe on the left and Icardi on the striking position.
When Barcelona pushed high, PSG would go longer with Kyler Navas attempting 16 long balls compared to Ter Stergen 6. This was encouraged by Mauro Icardi who is a threat in the air. Mbappe would tuck in closer to him to pick up the second ball. Icardi won 3 non contested aerial balls including a missed goals.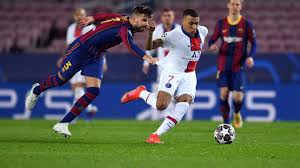 In defence, Barcelona assumed a 4-5-1 formation with Messi in attacking. While out of possession, Messi did not press the center backs. This have them freedom to distribute the ball easily and enables the fullbacks to join Moise Kean and Kylian Mbappe in attacking. With the support of the full backs, Mbappe could progress into the box and wait to attacks. 
Barcelona played narrow. This gave PSG's fullback to attack the ball easily. We saw this in the first PSG goal. Jordi Alba was drawn towards the central position leaving Florenzi to make a run and cross the ball to Mbappe who scored the third goal.
Barcelona were outplayed tactically as PSG defended in a 4-4-2 formation and pressed high. This gave them less attacking chances. Messi would drop deeper to create chances for Dembele and Griezman.
Content created and supplied by: Tonie_art (via Opera News )