The premier league is among the most competitive league in the world and various players who play in the league are of class and quality and hence get huge salaries .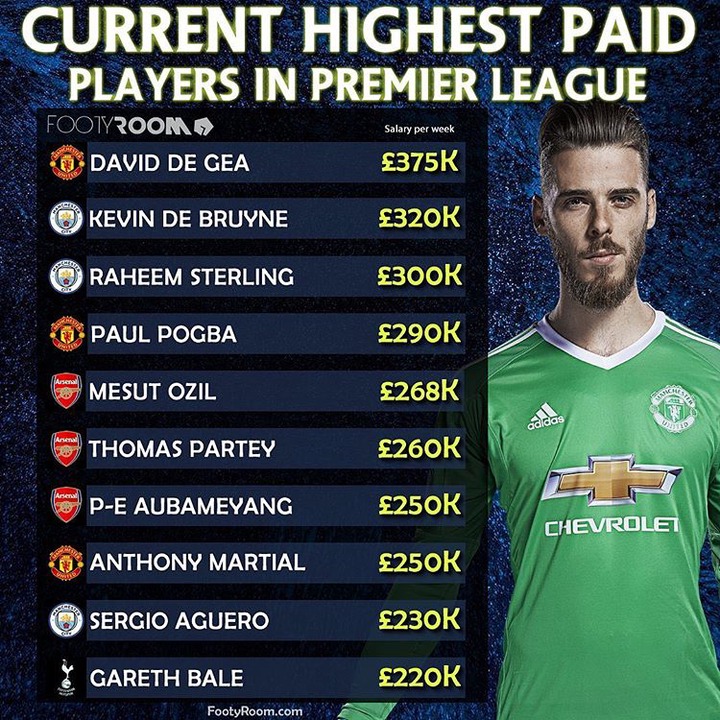 These are the highest paid players in the premier league including new arrivals in various club.
Manchester united goalkeeper David De Gea is highest paid getting up 375 thousand euros per week. Manchester city star Kevin De Bruyne earning 320 thousand euros per week. Raheem sterling follows his team mate earning up 300 thousand euros followed Manchester united midfielder Paul Pogba who earns 290 thousand euros. Mesut Ozil of arsenal is sixth earning up to 269 thousand euros ,new signing for Arsenal follow his team mate earning up to 260 thousand Euros. Pierre Aubamayang the arsenal captain earns 250 thousand euros. The Manchester united Anthony Martial is eighth earning 250 thousand euros. Sergio Aguero of Manchester city earns 230 thousand euros. Jose Mourinho signing Gareth bale earns 220 thousand euros .this are some of England big names and whose quality level and class is unquestionable.
Content created and supplied by: _Tymoh (via Opera News )