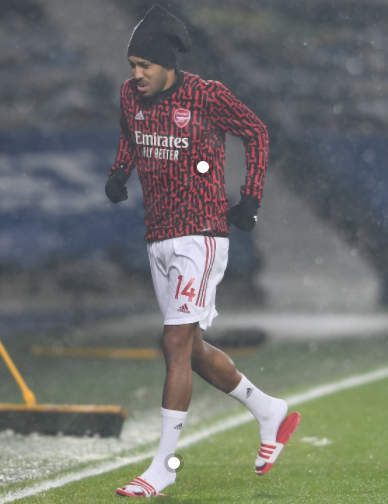 If you have been following soccer for some time, you probably already know that Arsenal's Piere-Emerick Aubameyang's primary goal is to play for Real Madrid of Spain. He hasn't shied away from admitting his admiration for the Los Blancos publicly.
On more than one occasion, he was quoted saying that his grandfather's wish was that he ultimately plays for the Los Blancos. He suggested that he would try to make the dream come true for him one day, something which hasn't happened up to now.
It is fair to say that Aubameyang is a top-top striker, and things would have been different for him, and his family had Real Madrid responded to his several 'come take me pleas'. Who knows? Perhaps he would be leading goal-scoring charts had he joined the club of his dream, Real Madrid.
Chances were high Aubameyang would have joined Real Madrid just when Cristiano Ronaldo, shockingly, left them for Italian giants, Juventus. Almost everybody expected Real Madrid to swoop in for him, but that didn't just materialize.
Instead of going for Gabon international, Real Madrid opted for Chelsea's superstar, Eden Hazard, and Eintracht Frankfurt's Luka Jovic. Things looked so bleak for the superstars with fans only seeing shadows of who they really are when they stepped onto the pitch to represent Real Madrid. The Belgian for example hasn't found life at the Spanish capital smooth sailing.
Despite living his dream by playing under the legendary coach Zinedine Zidane whom he idolized from a young age, he hasn't made any notable impact with the Los Blancos. Injuries have restricted him to very few appearances, and if current reports are to go by, he is set to have another ankle surgery meaning that he may not take part again in any games this season.
Away from Hazard's miseries. When Cristiano Ronaldo did make the switch to Serie A, he did make an impact at Juventus. He has scored memorable goals for them and on one occasion won a game all alone for Juve in a Champions League tie against Atleti where he scored a hat-trick to overturn a 2-0 first-leg loss.
Despite his heroics, he hasn't managed to guide them to a European final, and rumors are already making rounds that Real Madrid is making plans to get him back to the Bernabeu. There are also fears that Juve would be willing to let him leave to do away with his huge wages.
When commenting about reports linking CR7 to Real Madrid, head coach Zinedine Zidane did say that "Ronaldo was made for Real Madrid". That alone is enough to convince you that indeed they'd want him back. In a separate interview, Zidane admitted that Real Madrid is considering bringing him back to the capital.
If those reports are anything to go by, then it is now apparent that Real Madrid does not need Aubameyang and would not make any moves for him, soon considering that Gabon international is also growing old. We must say that Pierre-Emerick Aubameyang has only been unlucky.
He would have joined the LaLiga giants just immediately Ronaldo left to fill the void left by the Portuguese. Instead, the club opted for other options in Luka Jovic and Eden Hazard, which have only been detrimental for them in the long run.
Perhaps what Aubameyang could do now is to focus on his Arsenal and international career considering his age. Aubameyang is readying himself with the Arsenal FC squad to face Olympiacos in a UEFA Europa League encounter this week. Last week, he didn't take part in a North London Derby, sitting out the whole game, an incident in which Arsenal's head coach, Mikel Arteta, revealed was a disciplinary action against the skipper for protocol breach.
Content created and supplied by: Chuks001 (via Opera News )