Sure tips this weekend.
The battle for English Primear League continues this weekend as the title race becomes much tougher.Manchester city are still the leaders with 47 points, 4 points ahead of their city rivals Manchester United.
This weekend, the citizens will travel to anfield to face the defending champios Liverpool whose record in the past few matches has not been stable. Both teams will go into this match prepared for a win given that Liverpool lost their last match against Brighton and Hove Albion on Wednesday night.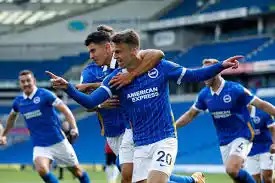 Here are the predictions from for this weekend.
1. Liverpool vs Manchester city.
having lost one nill to Brighton on Wednesday, The reds will see this game as a very tough game and will try all their best to grab the three points. however, our prediction is; manchester city to win 1 nill.
othr matches to watch are:
2. Aston Villa vs Arsenal - 2
Arsenal to win after having lost to wolvehamtom on Wednesday. The gunners will face this game fully prepared both mentally and physically.
3. Manchester United vs Everton-1
manchester united to win.
4. Newcasle vs Southampton- 1X
Newcastle united to win or draw
5. Wolves vs Leicester- X
The final result is a goaless draw
6. sheffield united vs Chelsea-2
Chelsea to win
7. burnley vs Brighton- 2
Brighton and hove Albion to win.
8. Tottenham vs westbrom- 1
Tottenham to win
9. Fulham vs wetham-2
Westham to win.
Content created and supplied by: Thegreatwritter (via Opera News )