Welcome to Opera news fraternity. We value you.Please share your comments on our predictions,like and follow for our daily updates.
Its Europa league day and teams are back in contention. Due to travel restrictions,the games that were to be played in spain will not be there and both teams are playing in a neutral stadium.
The following are our predictions,that are well Analysed by our Europa league experts.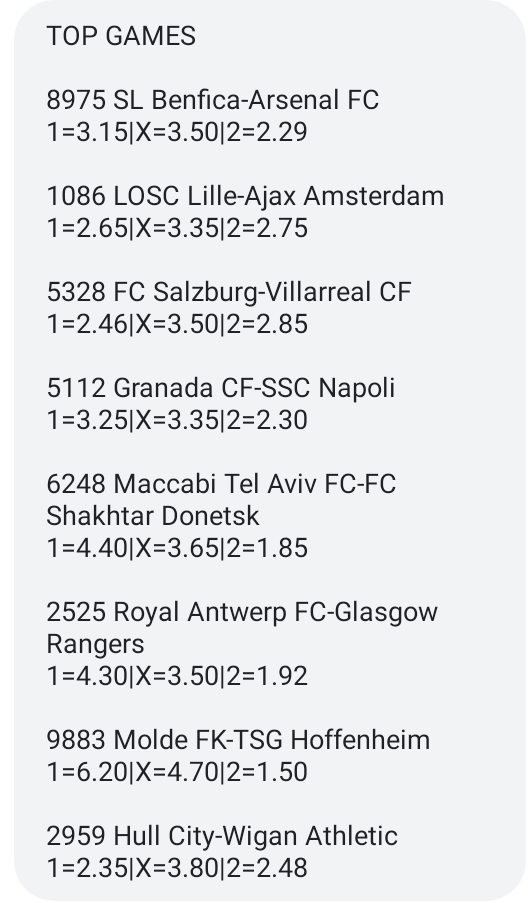 Benfica vs Arsenal
Arsenal have regained their football in the premier league thanks to return of their main man Pierre Emerick Aubameyang.The game will flow in goals since both teams have a strong attacking force.
Tip:over 2.5 and GG
Lille vs Ajax
Ajax will be in determination to make an impact here after elimination from the champions league. The host is in good form too.
Tip:over 2.5 and GG
Salzburg vs Villarreal
The hosts are known for their capability to score many goals.However,the spanish side is not an easy team too.
Tip Salzburg win and GG
Granada vs Napoli
The hosts were I great form in the first leg of the competition but looks to have lost the momentum. Napoli looks to have gained form after beating italian Champions, Juventus in their last Serie A meeting.
Tip: Napoli win and under 3.5
Maccabi vs shakhtar
The visitors looks favorite here after a narrow elimination from the Champions league. The will be looking forward to replicate their good Champions league record here.
Tip: Shakhtar win
Royal Antwerp vs Rangers
Rangers have been in great form under steven Gerrard this season, going over 30 games unbeaten in all competitions.
Tip: Rangers win
Did you like our tips? leave your comments here, follow to get our daily tips.
Content created and supplied by: Fulfutbol (via Opera News )