There was drama in a certain hospital after a man who had attempted to commit suicide was admitted to the hospital with a number of missing teeth after his attempts failed miserably leaving him toothless.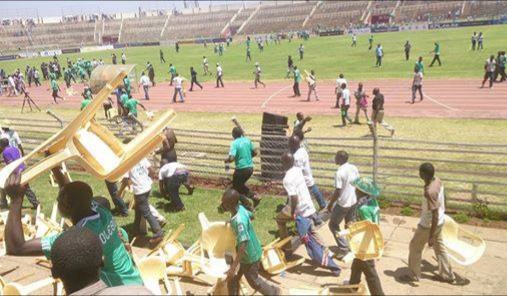 Photo:Courtesy (Previous incident)
Case File
According to the reports given by the witnesses who were In Kabarnet stadium in Baringo, the man is said to have jumped from the highest part of the stadium in an attempt to kill himself for unknown reasons, this was followed by a large crowd who gathered to see what was happening only to find a toothless unconscious man lying in the play ground.
In a move to save the man's life he was quickly rushed to the nearest hospital where it was confirmed that he had lost a number of teeth with some other minor head injuries.
Speaking to citizen TV, the man said that he had taken this rush decision because he had gotten to the point in life where he felt like he couldn't go on anymore thus decided to take his own life. With a couple of broken bones in his legs along with other internal bleeding, he is currently safe in Kabarnet hospital.
If you liked this article please make sure you share your thoughts and opinions on this story in the comments section below not forgetting to share it with your friends too for awareness and security reasons.
https://twitter.com/citizentvkenya/status/1321270510014050308?s=19
Content created and supplied by: Justincreates (via Opera News )