Photo courtesy: A section of the English Premier League table standings.
English Premier League is set to resume for its 24th round in the weekend starting Saturday the 13th February 2021 after a busy week with most of the top teams in the league participating in the FA cup tournament.
On Saturday the 13th of February 2021 Leicester city is set to welcome Liverpool FC at 1530hrs at King power stadium, the home ground for Leicester FC. This is one of the biggest clash set to kickstart the weekend fixtures that will see Leicester city which holds position 3 face The Reds who rests at number 4 with 40 points, just 3 points behind their opponents at the EPL table.
This match comes at a time when Liverpool FC manager is mourning the demise of her mother Elisabeth who passed away few days ago. Liverpool FC will be looking forward to winning the match as a tribute to their manager's mother despite a period of poor performance in their last few matches.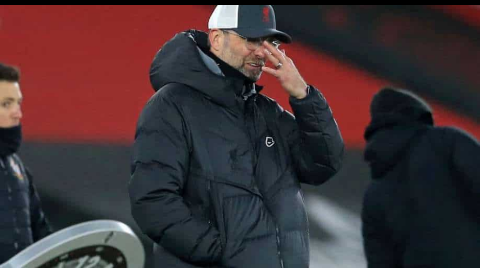 Photo credit: Liverpool FC manager Jurgen Klopp.
In other fixtures during the same day Crystal palace hosts Burnley at Selhust park at 1800hrs while another giant clash is set to go down later on in the evening at 2030hrs at Etihad where the leaders of the EPL table Man City will be hosting Totthenham Hotspurs led by their manager Jose Mourinho.
The closing match for Saturday will see Brighton and holve Albion host Aston villa at 2200hrs at Amex stadium.
The fixtures are expected to continue on Sunday and on Monday as indicated below with their respective time and stadiums at which they are expected to go down. It should be noted that the times here are in the East African Time Zone (EAT).
SUNDAY 14 FEBRUARY 2021
Southampton vs Wolverhampton wanderers - 1530hrs at St Marie's stadium.
Westbrom wich Albion vs Manchester United-1700hrs at Hawthose stadium.
Arsenal vs Leeds United - 1930hrs at Emirates stadium.
Everton vs Fulham - 2200hrs at Goodson park stadium.
MONDAY 15 FEBRUARY 2021
Westham United vs Sheffield United - 2100hrs at London stadium.
Chelsea vs Newcastle United - 2300hrs at Stanford bridge.
Content created and supplied by: BreakingNewsTrend (via Opera News )