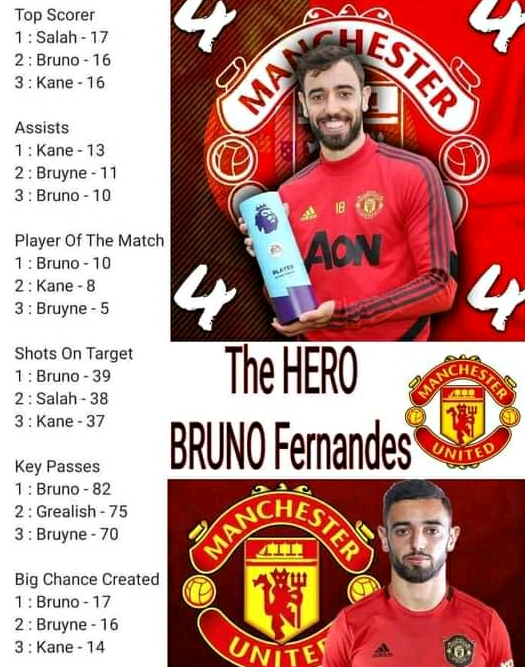 Manchester United has been consistent on nurturing & improving players proffessional football career to world class quality over the last 3 decades. The red devils produced greatest players in history such as Cristiano Ronaldo, David Beckham, Diogo Forlan, Wayne Rooney, Erick Cantona, Ruud Van Nistelrooy, Dwight Yorke, Cole, Saha, Bernatov, Van Persie, Depay & Bruno Fernandes. Manchester United are currently in position 2 with 57 points after 29 games played in the Premier League with Bruno Fernandes the top assist provider & topscorer for the red devils in the division. Bruno Miguel Borges Fernandes was born in 8th September 1994, plays as an attacking midfielder for Manchester United & his regarded as a hero for the club since joining them in 2020 where he has scored 35 goals & assisted other 25 goals in 67 apperances.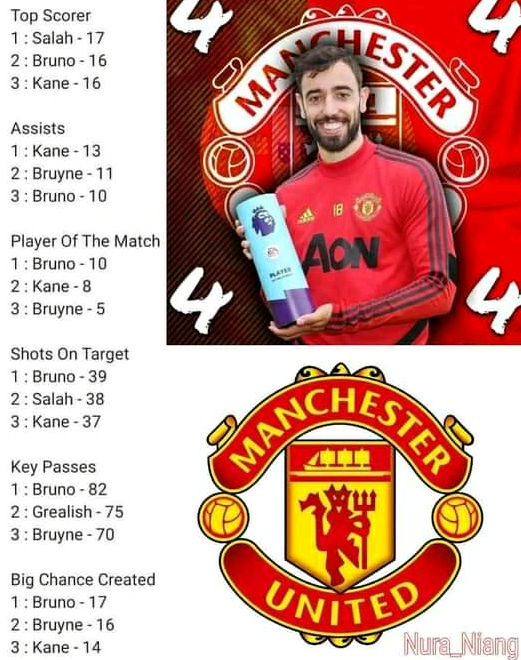 Bruno Fernandes is regarded as both Premier League & Manchester United Hero due to the follwing 6 reasons:
1: Bruno Fernandes (16 goals) is the current Manchester United topscorer in the Premier League and only Salah & Kane (17 goals) have scored more goals than him in the whole division.
2: Fernandes (10) has the 3rd most assists in Premier League after Kane (13) & Kelvin De Bryune (11) but still the top most assist provider at Manchester United.
3: Bruno Fernandes has won most player of the match awards (10) than any other Premier League player as the closest players Kane (8) & Bryune (5) are a distant far below.
4: Bruno Fernandes (39) has shot the most attempts on target compared to his Premier League rivals Salah (38) & Kane (37).
5: Bruno Fernandes (82) has successifully achieved the most key passes made in the Premier League followed by Grealish (75) & Kevin Bryune (70).
6: Bruno Fernandes (17) has created the most chances in the Premier League compared to other players as closest rival Kevin De Bryune (16) & Harry Kane (14) are still below him before the international break.
Content created and supplied by: KenyaSweetNews (via Opera News )