1. Lucas Moura , Ajax vs Tottenham.
Tottenham hotspurs Midfielder really shines when playing with Ajax in 2nd leg of UEFA Champions League semi finals. Tottenham which was beaten 2-0 in the first half, Only after the first twenty minutes Tottenham has equalize trough Lucas Muara. The game was played well for remaining with Ajax having qualified for finals but at 90+6 minutes Lucas Muara scored a very fantastic goal which gave Tottenham direct ticket to play for Finals in 2019.
2.Sergio Aguero, Manchester City vs QPR.
Sergio Kun Aguero an Argentina professional footballer plays as a Striker really plays a big role during 2011/12 season where he scored at extra time time aganist QPR making his team won English Premier League Trophy though Manchester United were a head.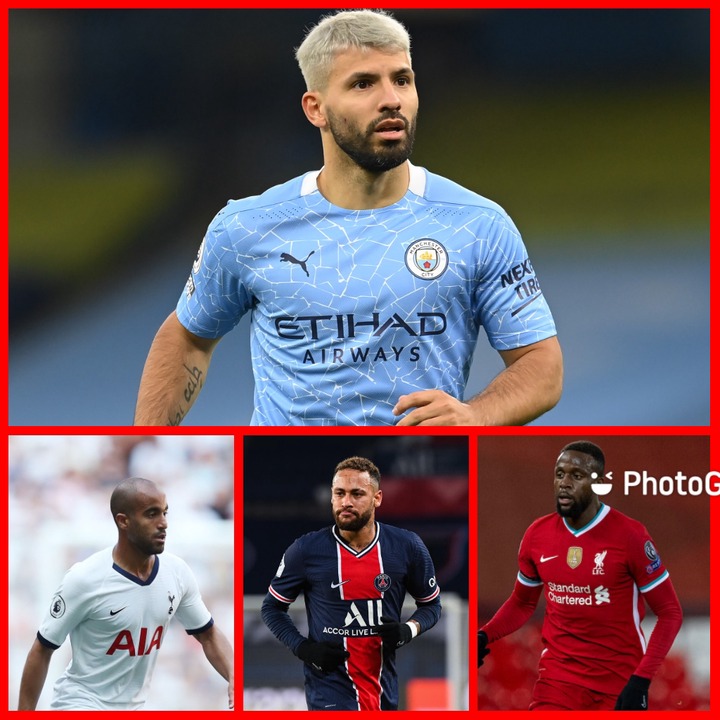 3. Neymar Junior, Brazil vs Germany.
Brazil played with Germany back in 2016 where the game ended a draw of 1-1 with Neymar and Maximilian Meyar scoring. Both teams were forced to play for extra minutes but results didn't changed hence the next thing was to go for penalities. Neymar Junior was to take the Fifth penality kick where he scored making Brazil win 5 goal to 4 for Germany.
4. Divock Origi, Liverpool vs Everton.
Substitute Divock Origi scored a last gap winner to settle the Merseyside Derby in Liverpool's favour after Jordan Pickford's howler. He scored from very close range to the top left corner following a set piece situation in 2018/19 premier league.
5. Rhyian Mahrez, Algeria vs Nigeria
In 14 July 2019 Algeria played with Nigeria in AFCON Semi finals, the game ended a draw of 1-1 for the first 90 minutes. Man City Superstar step once again , curling A free kick home in final minute of added time setting Algeria to AFCON finals showdown with Senegal and Liverpool star Sadio Mane.
6. Mephas Delay, Lyon vs Psg
Olympique Lyonnais Memphis Depay secured a 2-1 win over Paris Saint German in the 95th minute . The PSG goalkeeper Alphonse Areola to the spot after he hammered the ball into the top corner of the Post.
7. Sergio Ramos, Real Madrid vs Atletico Madrid.
Sergio Ramos is a spanish professional footballer playing as a defender for Laliga club Barcelona and German national team. Ramos scored a goal aganist Atletico Madrid at last minute of extra time making Real Madrid to win the gamej
8. Alvaro Morata, Liverpool vs Atletico Madrid.
Morata who joined the game as a substitute make liverpool fans not to believe their eyes in 2020 UEFA competition. Having played well the Reds was just beaten in the extra time being these goal scored by Morata who neted lastly.
9. Marcus Rashford,Manu vs Psg
He is England professional footballer playing as a winger for Manchester United and England national team. Rashford goal at last minute make Manchester United. Rashford last goal really credited the Reds to beat Psg 2-1 in UEFA Qualifications stages.
10.Cristiano Ronaldo, Portogal vs Egypt.
Ronaldo won a battle between two of Europe in form strikers as Portogal defeated Mohamed Salah Egypt 2-1 in Zurich. Ronaldo really did a wonderful work of scoring two goals in less than five months. He scored in 90+2 and 90+4 making his team move to next level.
Content created and supplied by: Artimonyvinii3832 (via Opera News )