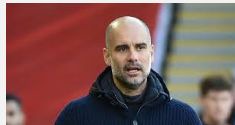 Manchester United star Paul Pogba is in fine form winning games for United. Pogba is off late enjoying Ine of his time at United after a period of a hard time in his football career which has made him receive questions from various football pundits in Europe what he came to do at United.
Many football supporters across the world have been wondering where Paul Pogba has drawn his form. As said, Pogba is showing world-class performance and this has made Manchester City boss Pep Guardiola to explain what has triggered the French man performance with his club.
According to Guardiola, Pogba desire to win the premier league with United is one that is pushing him to work hard on the pitch to make sure his side collect the 3 vital points that are essential to winning trophies. Guardiola says winning a premier league title with a great club like United is what every player think of and Pogba has the desire to do that.
Pogba has buried his desires to look for a new challenge elsewhere away from United and now he looks to concentrate on the pitch and he is ready to drive United to win the premier league title this season as they have an opportunity to do so based on the recent fine form they are enjoying.
Content created and supplied by: ERisingokingpin (via Opera News )