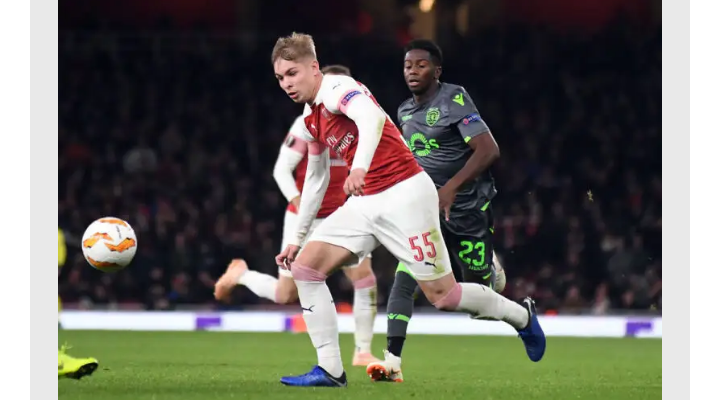 In many a young man's career, there is a 'make 'em or break 'em' moment that dictates what the future has in store for them.
For Emile Smith-Rowe, that arguably came last season in a loan spell at Huddersfield Town In the wake of a global pandemic unlike any other, the then 19-year-old moved the best part of 200 miles north to Yorkshire on his own to play his role in a Championship relegation battle….Not exactly football's glamourous side.
But he pitched in, became 'one of the lads' to coin a cliché, and produced a series of outstanding performances that helped to retain the Terriers' second-tier status. Huddersfield's first team coach Mark Hudson was suitably impressed "You could see his talent immediately, his technique, his ability to speed the game up, take the ball on the half-turn. Because he is young and enthusiastic, he brings an energy and an ability to press as well. He is so intelligent with his movement," he said.
That ability to drift into pockets of space is a natural gift – something that his predecessor in the number ten role, Mesut Ozil, had in abundance. But one thing the German couldn't do, to the frustration of Arsenal fans, is accelerate the play; to carry the ball forward or release a through ball to a more advanced player. Ozil is a Rolls Royce of a footballer, but his actual attacking output does not stand up to scrutiny.
But Smith-Rowe….Well, it's early days but the suggestion is that he will post the numbers to go with the flair and the style. He's already recording 1.7 key passes per game on average, which puts him in and amongst the Premier League's most effective creators, and an xA90 rate suggests he will assist a goal every four games – at that ratio across the whole season, only messrs Kane, Fernandes, De Bruyne, Son and Grealish have been more effective.
It's rare for a player so young to affect a change so marked, but Smith-Rowe's style of play, his willingness to be brave in possession, carry the ball and attempt high risk passes is exactly why the Gunners have improved so dramatically.
This is a young English gem with the world at his feet.
Content created and supplied by: Newspeddler (via Opera News )