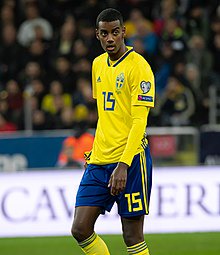 One year ago in 2020,united chief scout Mercel Bout was pictured watching sciedad i n action and El Dario Vasco claimed that he was there watching Alexander Isak,along with William Jose who is now at wolves.
Alexander Isak is a Swedish striker who is now 22.He is a player on the radar of many European clubs for around five years now.
The sun reported back in 2016 how Man united were one of dozens of clubs around Europe who were scouting him.
He signed with Borussia Dortmund back in 2017 but the move did not materialise.He failed to earn a starting spot in Dortmund's first team squad and was sent on loan to Willem 2 in Holland where he scored 13 goals in 16 games,earning a permanent move to Real Sociedad.
The football world seemed to be at his feet,with Isak earning an international debut at just 17.
Alexander Isak has been Real Sociedad's player of the month and he will be a notable threat against Manchester United in Europa league next week.
United's long term striker option remain unclear.Anthony Martial has plenty of questions hanging over him while Edinson Cavani is a short-term fix.
United will be looking at Isak's display in the coming Europa league campaign and this gives them a better chance of signing him.
Content created and supplied by: tonyferdinand (via Opera News )