Dortmund vs Hoffenheim
Dortmund lead the head to head tie by four wins ahead of the 28th clash against their allies who picked up a narrow 0-1 victory when the two sides played each other in the first half of the season in Sinsheim.
Three or more goals were scored in three subsequent head to head clashes before the mentioned this season's encounter.
Bercelona vs Alaves
Barcelona continues their winning streak to the sixth game in a row while carrying on their 11 game unbeaten run in the league. After losing the Super Cup final, the Catalans will focus on the league title. They will return home after a 2-3 triumph on the road over Real Betis last time out in the campaign.
Alaves broke their six game long winless run in the league with a win in the last league clash. The visitor has kept a clean sheet in their last two fixtures in the La Liga. They will visit on the back of a 1-0 win at home against the likes of Real Valladolid in the previous encounter in their schedule. The away team will not have much hope to win against the host at Camp Nou.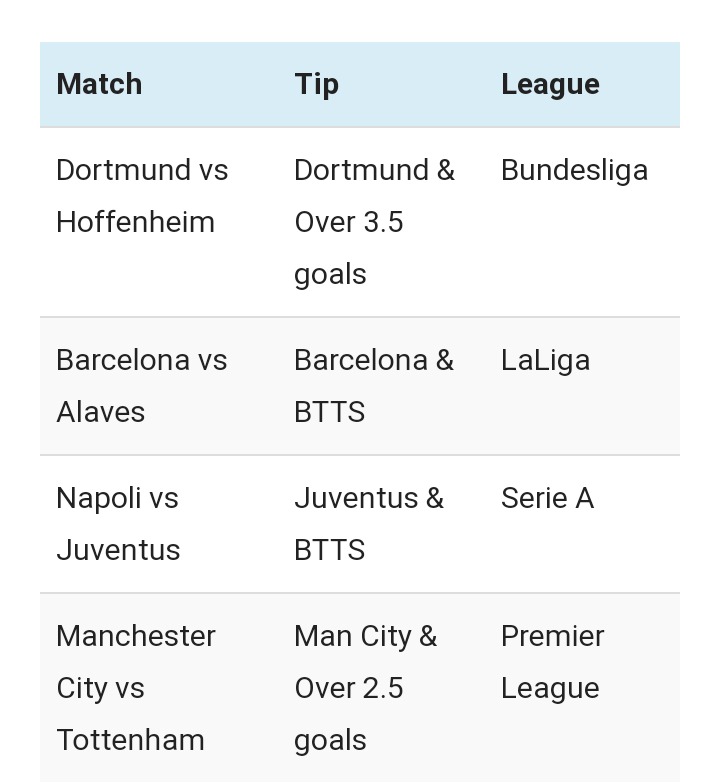 Napoli vs Juventus
Juventus lead the head to head tie by 12 wins going into the 51st clash against their opponents,the two sides played each other just less than a month ago when Juventus took a 2-0 victory in the Super Cup clash in Bergamo.Napoli defeated Juventus in the last season's Coppa Italia final on penalties (0-0 in the regular time
Manchester City vs Tottenham
Pep Guardiola's men also have a score to settle this weekend, as they are taking on the Spurs, who are one of the only two teams in the English top flight to inflict a defeat against them this campaign.
On top of that, it's also a personal battle for Pep, as he is once again matched against Jose Mourinho. These two have been battling against each other for the past decade to be called as the greatest manager of this generation.
Going on, Mourinho's men had lost four of their previous five overall matches, and their only win in the period had come against the 19th placed West Brom.
Note that they were also winless in seven of their former eleven road trips, and of the total four wins during this stretch, three had come against teams from lower divisions in other competitions, and the fourth had come against the 20th placed Sheffield.
Content created and supplied by: Ombevaombevajunior (via Opera News )