The battle to proceed beyond the group stages for various teams in the Champions league continues this week and these are the best predictions to win big.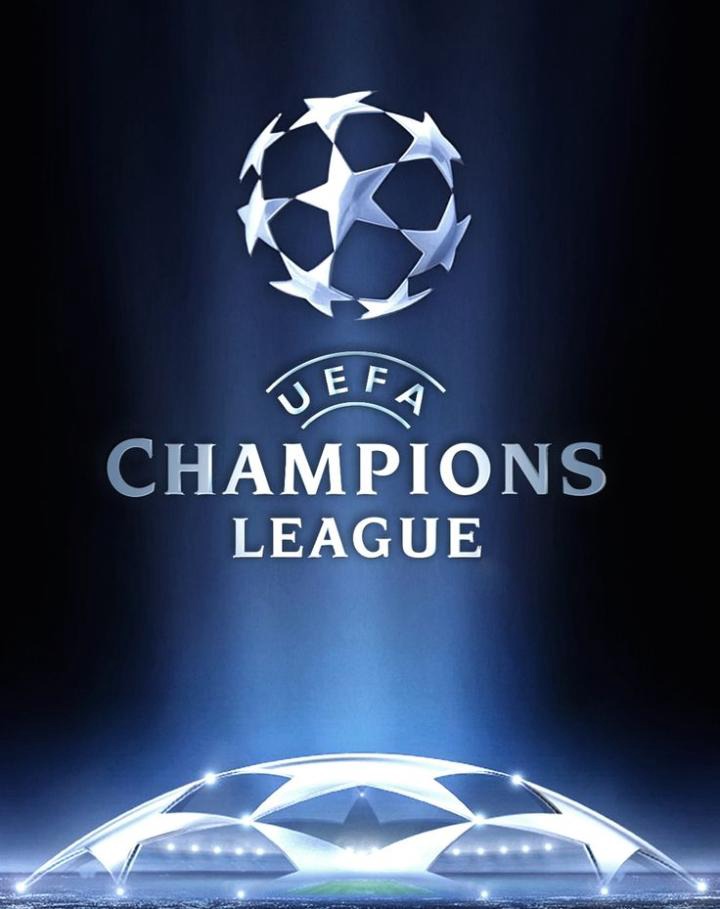 Krasnodar are heading into this game having won only one game out of the recent 6 games played in all competitions.Sevilla on the other hand have won 4 of their recent 5 competitive matches and are the favourites to win. Both sides won their weekend games and are motivated to get points in this game. Over 2.5 goals have been seen in 7 of 8 games that Krasnodar has played this season and similar results are expected.
Pick Over 2.5
2: Borussia Dortmund vs Club Brugge
This game will be played at Signal Iduna Park and will be a tough one for both sides since these teams are separated by only 2 points in their group and whoever wins will cement the top slots in the group. Erling Haaland scored four goals for Borussia Dortmund as they defeated Hertha Berlin 5:1 during the weekend and he is expected to continue his dominance in this game. Borussia Dortmund are currently 2nd in the Bundesliga while Club Brugge are 1st in Jupiter league 1 and this shows that both sides are on form and a tough game will be experienced.
Pick 1X
3:Lazio vs Zenit st Petersburg
Lazio are currently 2nd in their group with 5 points while Zenit st Petersburg are last in the group with only one point. The last time this two teams met the game ended in a 1:1 draw and this shows that both sides are equally strong and have a good goal scoring opportunity. All Lazio home games this season have produced a gg as shown below and this game will produce a gg too.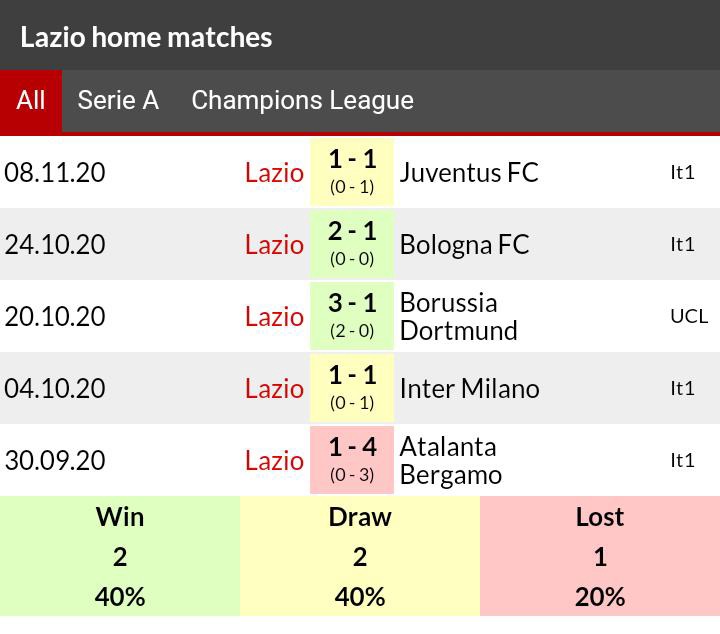 Pick gg
4: Juventus vs Ferencvaros
Juventus are heading into this game unbeaten in 9 of 11 games played recently in the Champions league and they are favourites to dominate in this game. Juventus won 4:1 in the first leg of this game and the home advantage will make them shine in this game. Farencvaros has only one point so far and are last in the group while Juventus has 6 points and are 2nd in the group. From the above Statistics it is evident that Juventus are on form compared to Farencvaros and thus will win this game.
Pick Juventus
5:Dinamo Kiev vs Barcelona
Dinamo Kiev are dominating in their home league and are 1st in the Ukraine premier league while Barcelona are 12th in Laliga after loosing 1:0 to Atletico Madrid over the weekend. Barcelona have been performing poorly in Laliga compared to the champions league where they top their group with 9 points,3 points above Juventus. Barcelona are unbeaten in 11 of 12 Champions league games played recently and they are hoping to extend their lead in the group. These two sides have met thrice recently and Barcelona won all the three games as shown below and are favourites to win this game.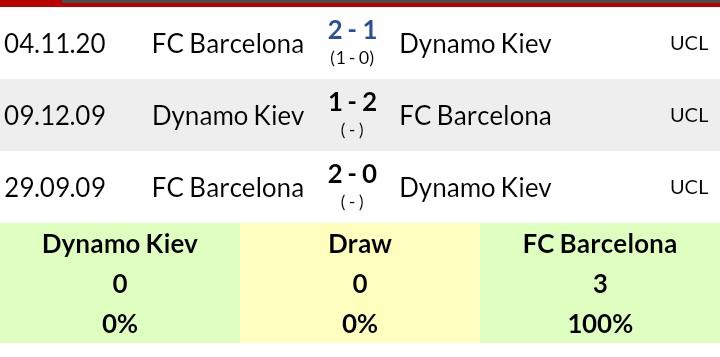 Pick Barcelona
6:PSG vs Leipzig
PSG are currently 3rd in group H with 3 points while Leipzig are 2nd in the group with 6 points. PSG will be trying to bounce back after a loss to Monaco on Friday and this game will see each team fighting really hard to get points. It is a do or die situation for PSG since they may fail to proceed beyond the group stages if they loose this game and thus many goals will be seen in this game as each team will try to outdo the other.
Pick Over 2.5
7: Manchester United vs Instabul Basaksehir
Manchester united are on top of group H with 6 points while Basaksehir are last in the group with 3 points. Manchester united are hoping to revenge the surprise away 2:1 loss to Instabul last month. Having the home advantage, Manchester United will shine in this game.
Pick Manchester United
8: Rennes vs Chelsea
Chelsea's recent form is WWWWW while Rennes recent form is LLLWL. Chelsea are currently on top of the group with 7 points while Rennes are 3rd in the group with only one point. It is evident that Chelsea are on fire so far and are expected to win this game.
Pick X2 & over 1.5
Content created and supplied by: Kevinmanny (via Opera News )