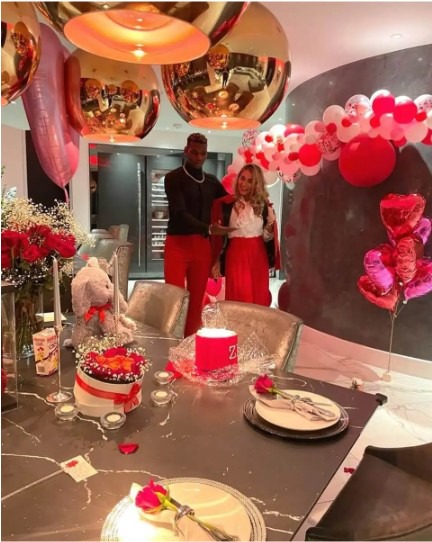 Manchester United is number two on the English Premier League table, so far, this is a good number as far as the Champions League slot is concerned. The talk about the Premier League Trophy now seems unreasonable, based on the form of Manchester City who are winning every game regardless of the opposition.
Not long ago, Manchester United was right in the title race, but the recent deep in form have changed the narrative. This also coincide with the injuries to key players like Paul Pogba.
As a result, the French International has been on and off Ole Gunnar' s first eleven. Against West Brom, Manchester United' s last game, Pogba Labile did not feature. This was also down to injury. This allowed the midfielder to offer his attention to his family.
By l good luck, this also coincided with a weekend when the Valentines Day was being marked. The French and Manchester United midfielder used the opportunity to give his wife some unforgettable treatment.
Pogba and his girlfriend Zulay graced the day in some matching outfits. In the pictures shared, the footballer appearing to usher his better half to a well- set table.
He led his wife, Maria Zulay, to a romantic dinner outing to celebrate the Valentines Day, just hours after his team, Manchester United had played to a 1- 1 draw against the stubborn West Brom.
Pogba headed to Instagram to share with his over 40 million followers a glimpse into his dinner date with his wife.
The 27- year- old midfielder shared a loved- up photo with Zulay glowing in red matching cloths. Pogba appearing to romantically usher his wife to a well- set table, showing how their love continues to grow, despite being together since the year 2017.
He then went ahead to caption the photo, " PLEASE TAKE A SIT MY QUEEN, " followed by emojis of heart, a confirmation of love he has for his beautiful wife.
Content created and supplied by: Eddubande (via Opera News )