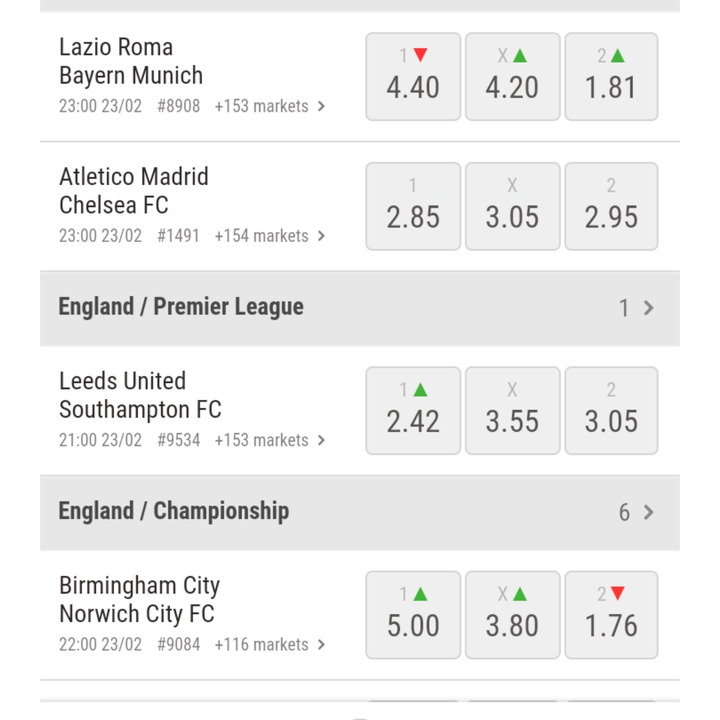 Today there are two champions league matches that are set to be played in the night.Chelsea will be up against Atletico Madrid while Lazio Room will face Bayern Munich.Below is my Analysis for some of the matches today.
Lazio Roma vs Bayern Munich
Bayern Munich perfomed poorly last time out in the Bundesliga.They were hammered 2:1.However this is the champions league and depending on the stakes on the ground,Bayern might do anything possible to win this.Lazio Roma too won't let them have it easy and so I would go for a high scoring match.So my safest pick is over three goals.
Atletico Madrid vs Chelsea
Both return leg and first fixture are set to be played on neutral ground.Since it's a neutral ground, everybody is likely to have equal chances.In short they will all play in unfamiliar territories in both cases.However in the first fixture I would go for a Chelsea surprise win.Thomas Tuchel us currently playing the counter attack that might surpress Atletico.
In other matches like the Leeds and the Southampton match,I feel that Leeds are more better placed to win the tie. The quality that they have currently allows them to score a lot of goals.Southampton too is a team that scores and let's in a lot of goals at the same time. I would go for a Leeds win or over three goals.
Bet on what you can afford to lose .Matches can usually go either way as these are just mere Predictions.
Content created and supplied by: WillyKim (via Opera News )