The UEFA Champions League competition returns to action tonight with two matches on list. 16 teams will be battling it out to win Europe's most coveted trophy currently in the hands of Bundesliga and club world cup champions FC Bayern Munich.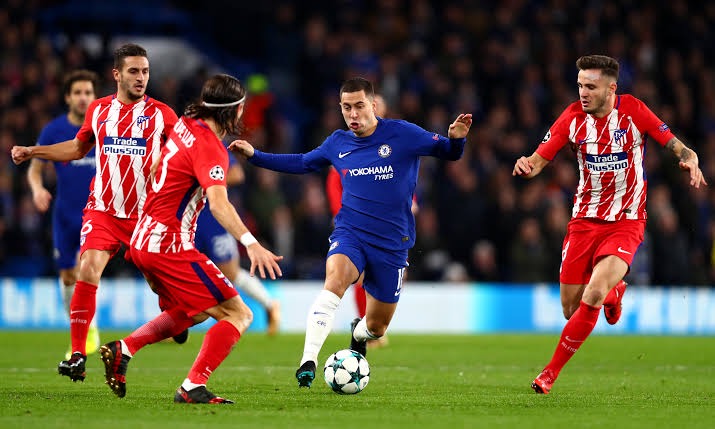 Eden Hazard battles out for the ball against Atletico Madrid in the past UEFA Champions League group stage match. Photo courtesy
As a norm, the knockout stages are played on home and away basis but due Coronavirus pandemic, this norm is affected as was in the tail end of last season due to restrictions put in place by some governments. Among the affected teams are RB Leipzig, Borussia Monchengladbach and Atletico Madrid.
Germany has put a stop to almost all arrivals from areas affected by coronavirus mutations until at least February 17. Only German citizens and residents are allowed to return to the country from these areas under certain conditions.
RB Leipzig and Borussia Monchengladbach are victims of these restrictions which have forced them to shift their round of 16 home games to Puskas Arena in Budapest, Hungary. Leipzig takes on Liverpool tonight in the first leg of the knockout with the second leg scheduled for Anfield.
In the other clash to be staged in Hungary on February 24, Borussia Monchengladbach will host Manchester City with the return leg taking place in Manchester.
The Spanish Ministry of Health has also put in place an evolving number of restrictive measures on travel ever since the country issued a state of emergency on October 25, 2020 including banning of arrivals from the UK to the capital.
This is because the UK is among countries which have recorded the highest number of coronavirus cases, particularly transmissible new variant of the disease.
The ban has left Atletico Madrid with no option but to play their first leg fixture on a neutral ground. Atletico will play Chelsea at Arena Nationala in Bucharest, Romania next week Wednesday. The match was earlier scheduled for Wanda Metropolitana stadium in Madrid.
Todays fixtures
RB Leipzig vs Liverpool
Barcelona vs Paris St-Germain
Content created and supplied by: HeraldKing (via Opera News )