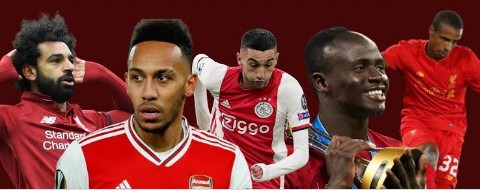 Top 10 Highest Paid African Footballers This 2021 Plus The Amounts They Are Paid.
4th February 2021, Nairobi Kenya.
Below is a list of the top 10 highest paid African footballers.
1) Aubameyang
He is paid £350,000 per week at Arsenal football club where he plays.
2) Cedric Bukambu
He is paid a total of £307,000 per week and he plays for the Chinese SuperLeague club called Beijing Guoan.
3) Mohamed Salah
This is the Liverpool star and he earns a total of £200,000 per week.
4) Riyad Mahrez
The Algerian plays for Manchester City and he's paid £200,000 per week.
5)Odion Ighalo
The Nigerian earns a total of £190,000 at Manchester United but he is now headed to Saudi Arabia side Al-Shabab.
6) Sadio Mane
The Senegalese star earns £150,000 per week and he plays for Liverpool football club where he is one of the best players.
7) John Obi Mikel
He is always paid a total of £140,000 per week in his current club and he comes from Nigeria.
8)Nicolas Pepe
He plays for Arsenals and he earns £140,000
per week.
9) Wilfried Zaha
The Ivory Coast International plays for Crystal palace and he is always paid £130,000 per week.
10) Naby Keita
He earns a total of £120,000 amd he pays for Liverpool football club too.
Share widely and remember to follow me for more information on this and other news making headlines.
Content created and supplied by: Jonaz041 (via Opera News )