when many see this the scent of Nasila community and the maa culture runs in the brain.A form of calmness knowing ahead is is a countionious 9 hours of serious reading hits the brain.To some it rings bells of their recent highchool teachers who took them throgh litrature.The author brings vividly the culture of the maa community.Throgh different characters cruelty of some cultural practices is seen and embrasement of good moral.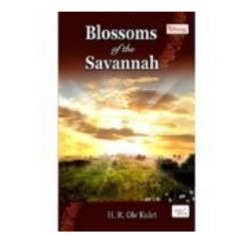 one of the greatest mind has now departed from the face of the the earth on tuesday night.He passed away in Nakuru receiving medication in mediheal hospital at the time of his departure he was aged 75.He was the author of some of the greatest writtings.Just but to mention some :blossoms of the savannah,Moran no more and many more.
Kulet"/>
Nation Media Group
The Kenyan literary fraternity is mourning the death of renowned writer Henry ole Kulet who died Tuesday night in Nakuru.
The celebrated and award winning writer, who illustrious career spanned over three decades, died at the age of 75.
Mr Kulet, a three-time winner of the prestigious Jomo Kenyatta Prize for Literature, passed away at Nakuru's Mediheal Hospital following a short illness, said a family member.
"It is .
His wife, Jane Njeri , also confirmed the death.
"Mzee passed on last night at the Mediheal Hospital after a short illness. I have lost a friend and confidant," .It is this character that his book blossoms of the savannah is deadicated to .This actualy makes us view olekut in a different angle.He indeed was a true family man.
"My uncle fell ill this week and was admitted to Mediheal Hospital where he passed on while receiving treatment," Mr Kulet's nephew, Lemomo Ole Kulet, told the media and this was gazated later a day after .
Blossoms of the Savannah, one of the books written by the late Kulet.which managed its way to becoming a comparsory setbook in highschool.It is throgh this book most can openly admit they knew ole kulet throgh
The veteran author died two months after he lost his son, Edwin Lemayan, who was aged 39.
Lemayan died in December last year at his Nairobi residence after a short illness.
Content created and supplied by: kendrick-ratchet (via Opera News )