Arsenal on Sunday 22nd travelled away to Leeds United for their 9th game of the 2020/21 epl season. At the close of the first half of the game, the match settled for a goalless draw with both teams still having a chance in the game.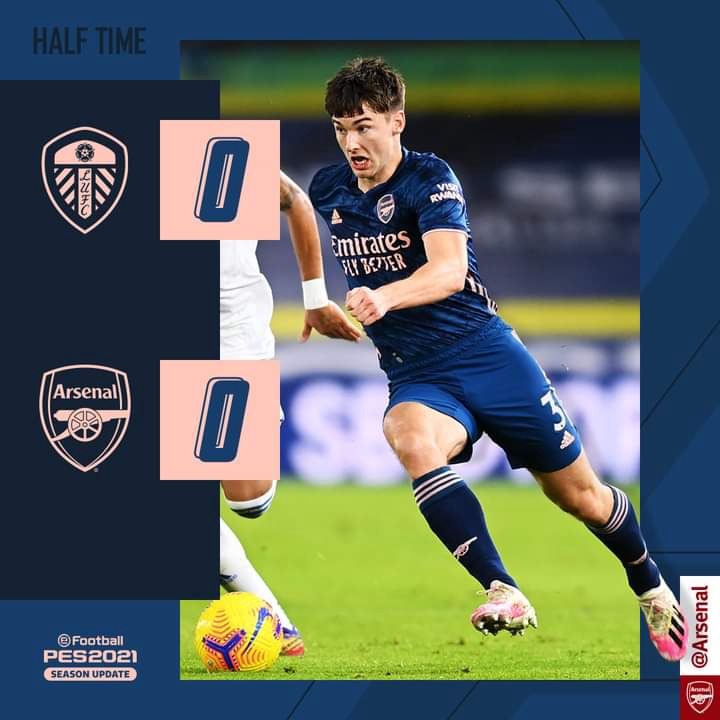 (Photo, Courtesy)
Michael Arteta's boys were however reduced to 10 men after Nicolas Pepe was sent off against Leeds United in the second half of the match, 50th minute, over violent conduct.
Angry Arsenal fans took on Pepe following his conduct that saw him get booked saying that he should be sold out because he is a 'Mistake Buy' at Arsenal.
Below were some of the reactions of the angry fans;
"He's so useless. You don't do this kind of things on the pitch." - Abdumajid
"I was rooting for him but with this kind of behavior he can kiss good bye to starting games again this season especially in the EPL." - Percy Maluti
"So this is the project arteta is building at arsenal? Fraud." - Haliru Mabiu
"Moans about not starting, gets a start and does that. Helmet." - Daniel Calam
"The guy has a look like he has a football brain and know what is doing with a ball." - Kai Moh
"He just gave an interview asking for more game time." - Pikant Rom
"Absolute disgrace!" - Boh Ndugah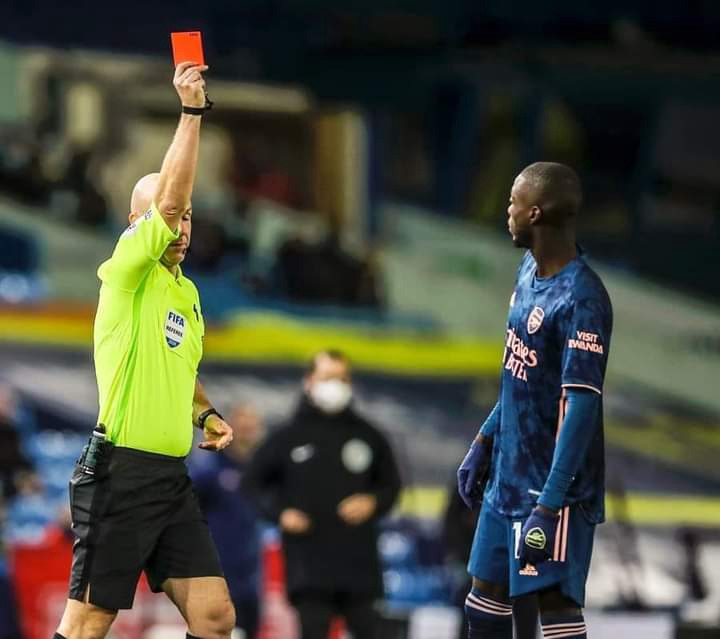 (Photo, Courtesy)
"If u ever feel useless just remember that Arsenal players train everyday." - Ofyegu Charles
"Complains about not playing....gets a start and does that.... muppet....get rid of him in January." - Paul Johns
"This Pepe guy looks frustrated alot." - Benard Kariuki
"Pepe zinedine zidaned the guy. He deserves headies award." - Tochuku Jinathan
"Pepe needs to be loaned out in January to some French team." - Kwanele Hlote
"I've never understood why Arteta starts this boy Pepe. He does a lot of unsure footwork. He forgets the ball so often." - Michael Odeke
"Very sad for him. Everything is going against him at arsenal." - William Bellion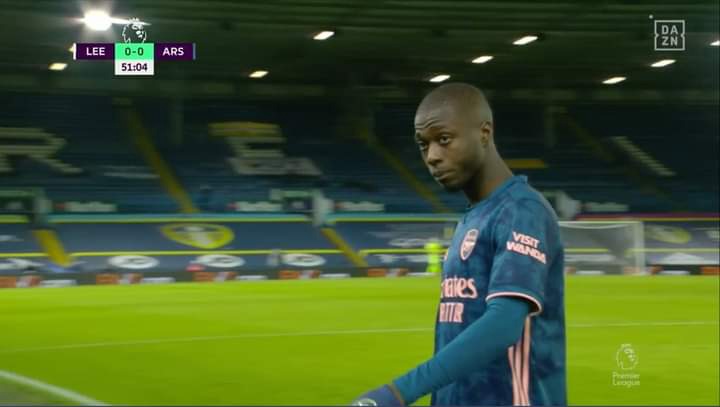 (Photo, Courtesy)
"This guy also,you don't do this when you have gotten a chance of sealing your number, I don't know what was running in your head?" - Cetric Celins
"He should stay out for a season." - Cools Baibe
"Overrated player what the hell is pepe still starting arsenal game bring back Ozil." - Obum Clinton
"After around for most of the first half like a headless chicken, he headbutts a player from the other team at the start of the second half. Strange performance by Pepe." - Unamba Nobert
"A mistake Buy...No wonder Arteta doesn't trust him to start a game." - Joshua Chukwuncha
"I mean since joining Arsenal he's never actually set the place alight. A few moments of class yes but overall, a poor signing." - Modecai Salorm
"He is a disaster, a liability and useless. How can he do such nonsense?" - Erick Kiprono
The Gunners signed Nicolas Pepe From Lille last summer, 2019, for a record fee of £72 million.
Do you think Pepe is proving his worth at Arsenal? Is he worth £72 million? Share your thoughts in the comment section below.
https://www.facebook.com/25427813597/posts/10159222473148598/
Content created and supplied by: RTCPress (via Opera News )