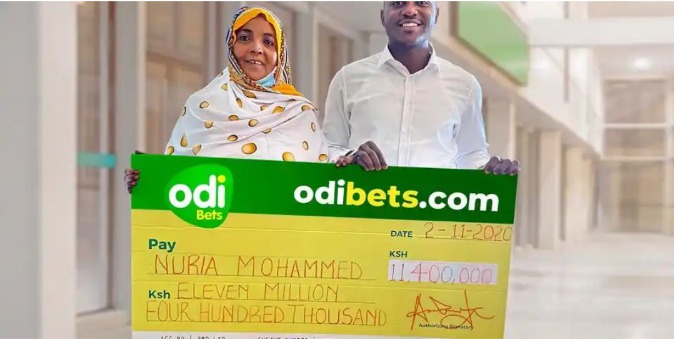 A woman named Nuria Mohammed was unable to hide her happiness after winning money worth eleven point four million Kenya shillings after placing several correct bets on one the game betting site,Odibets.
She gave her testimony on how she managed to place her bets on Odibet League just by shuffling on various betting markets for a duration of three weeks. She started playing Odi League when the normal matches were stopped following the outbreak of Covid-19 pandemic.
Those who put their bets on Virtual betting,it allows them to place their bets on computer generated games which play just like real matches with real players and teams.
On the betting site under Odi League platform,one is allowed to place a virtual bets on different markets,for example,over 1.5,3.5,GG,and many more market options.
Matches played on the Odi League take about thirty five seconds on each game whereas the winning remains constant to those of real games together with their betting odds.
As she received her cheque from the betting company county marketing manager,Aggrey Sayi,Nuria said that she will venture into business with the money she has won. She admitted that it was real and legit and anybody can become a winner.
Content created and supplied by: Writterson (via Opera News )