The premier league is the most competitive league in the world with a number of professional and world class players.Centre midfielder s dictate the play and are very key players in anynsquad.This are the most valuable centre midfielder in the premier league.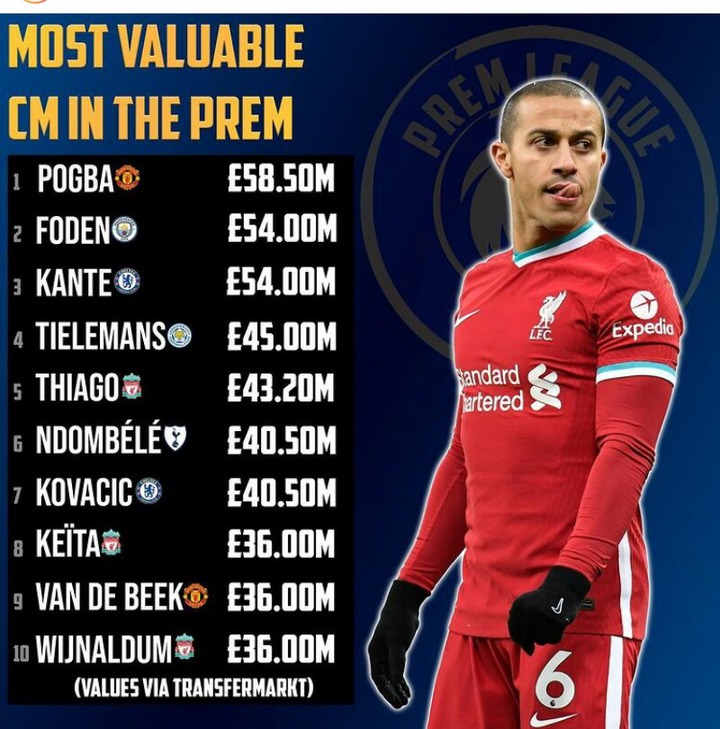 PogbaThe Manchester united star is the first with a price tag of fifty eight million Euros.Phil Foden alongside Kante of Chelsea have the same price tag. ,Manchester city youngster has been outstanding hence the his high price of 54 million Euros.The two have been very key and their performances have been incredible.
Leicester Tielmans is fourth with a price tag amounting to Fourth five million Euros.New signing for Liverpool Thiago Alcantara is priced at 43.20 million Euros.Tottenham star Ndombele is priced at 40.50million euros.Kovacic the Chelsea midfielder is also priced similarly to Ndombele.
Liverpool's Keita ,Manchester united Van De Beek and Liverpools Winuldum are all priced at 36 million Euros.who is the best among the 10 midfielders.
Content created and supplied by: _Tymoh (via Opera News )