A woman has reportedly committed suicide under unclear circumstances by jumping off her apartment moments after she allegedly had a little bit of misunderstanding with her husband over an unclear incident.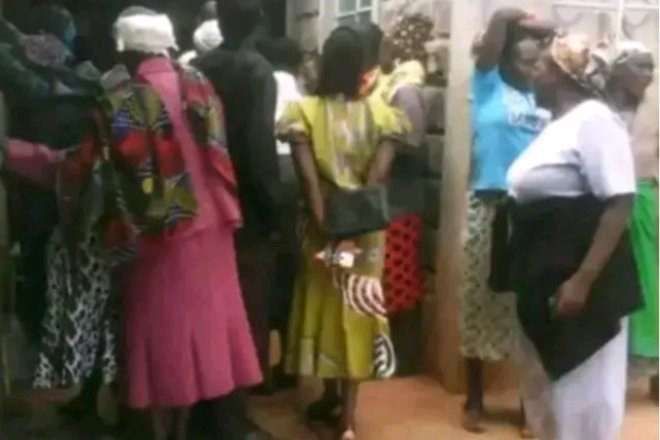 Photo:courtesy (image used for illustration courtesy of Google search engines)
According to the reports given by controversial Kenyan blogger who goes by the name of Cyprian Nyakundi, he claimed that the incident reportedly happened in Kabete where the man or rather Widower who has been identified as James Nguala called the police after his wife allegedly killed herself.
Reports received from James revealed that the two were having a discussion which he was yet to disclose to the police officers who responded to the incident before she allegedly went over to the roof top after which she jumped off dying on the spot after hitting the ground.
This was followed by a dramatic scene after he, along with other neighbors rushed to the crime scene after hearing the loud thud of the woman who has been identified as 51 year old Christine Akinyi Atieno whose body was found lying in a pool of blood.
However, despite the fact that what might have transpired between the two is still unknown, Police Officers who responded to the incident revealed that they had found a suicide note written by the deceased which they were going to use in their investigation, they however didn't reveal the content of the suicide note.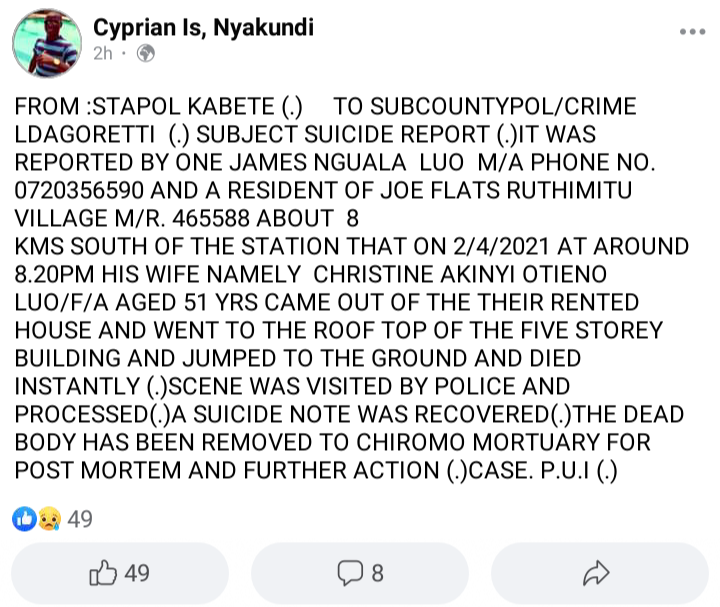 The incident has since sparked alot of mixed reactions from Kenyans who seemed to have been confused on what might have happened between the two for the woman to take her own life. With a section of Kenyans claiming that maybe she had a mental illness, others went ahead and called upon the president to Reopen the country adding that this might have been due to stress.
Content created and supplied by: Elevate123 (via Opera News )