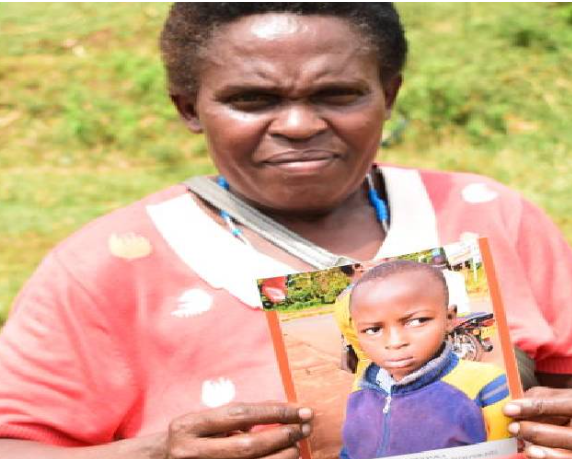 Agnes Musyoka is a nine-year-old girl who died on Saturday following severe injuries she suffered after being defiled.
According to her mother Elizabeth Musyoka, Agnes was a very lively girl who loved helping her mother with house chores while not playing hide and seek with her friends.
On Sunday, the little angel lost a three-day fight for her life at Kakamega County Hospital's Intensive Care Unit.
But Agnes didn't have to die. An inhuman act by a teacher she knew as her tutor and protector ended her young life.  
The suspected person is said to be an unprofessional teacher from a private school within the neighborhood, who owns a rented house just next to the victim's home at Makaburini estate on the outskirts of Kakamega town.
Agnes was found to have been defiled when her elder sister was bathing her and found some bleeding. When asked what happened to her, Agnes said that the suspect had warned her not to tell anyone and promised to give her 1,000.
Her mother reported the incident to the police and took Agnes to the hospital but she did not receive any help as the doctors and nurses were on strike.
This complicated things even more as Agnes would only sleep during the day but would be crying at night complaining of chest pain chest, neck and stomach pain, and persistent headache. She would be taken to different hospitals but her health deteriorated even more as she would only be given painkillers.
A medical examination conducted earlier indicated the victim's reproductive organs were raptured, occasioning life-threatening injuries.
The defilement incident was reported at Kakamega Central Police Station and the suspect, Peter Abucheli, 36, was arrested and waiting to be arraigned in court on March 24, 2021. The suspect will be charged with defiling a minor and causing bodily harm.
According to what Kakamega Central Sub-county Commander David Kwabena told The Standard, they would press more charges on the charges to the suspect if the pupil's cause of death would be found to be as a result of the defilement.
"If the post-mortem will reveal that the pupil's death was as a result of the defilement incident, then we shall press murder charges against him," Kwabena said on phone.
what's your take on this?
kindly leave us your views in the comment section below. Also like, follow our channel for more if you haven't, and most importantly help me share this among your friends and family.
Content created and supplied by: Anniest254 (via Opera News )