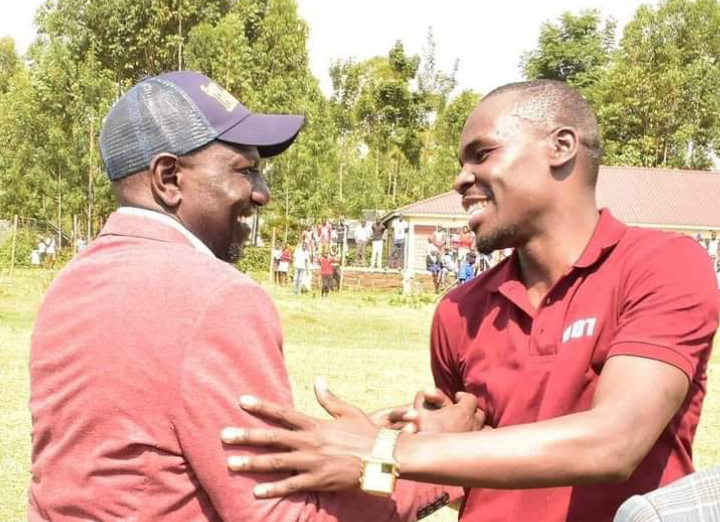 South Mugirango MP Sylvanus Osoro has finally cleared air on what really transpired in yesterday's ordeal just moments after his release.
ACTUAL STATEMENT
Charles Nyachae and I are very close friends.We actually hang out together almost daily whenever I am in Nairobi.He is like a big brother to me.I actually convinced him to join the hustler nation and support Dr.WSR and he accepted.Thats how deep our friendship is.From the day Charles lost his dad,I have been with him in his Nrb home day in,day out.NOT a day did I skip except on Wed when Dr.Matiang'i asked us to have a meeting which ran till past my usual time of visiting Charles and so I skipped my visit(was a waste if time though) and chose to meet Charles and family at the Maxwell Church on the following day.
After the church service,I had a small chat with Charles as I briefed him of my programme and committed to meet him on Monday,the burial day.I flew to Mombasa for my private business later that day,took a round trip to Kisumu from Msa on Thur,did my biashara there for a day,spent and woke up for Kericho on Sunday,spent in Kericho after a day's business then woke up early to catch up with the programme and to mourn with my friend Charles.
When I was almost taking my seat,was pulled aside by the county commander and the CCIO who told me that they had reasons to believe that I had plans to have some leaders heckled and so they demanded that I go with them.I complied.Was then moved around several police stations with a convoy of about 8 police vehicles(felt good though),being drove at 180km/hr while am sandwiched between 3 heavily armed senior officers .We moved around Nyanza for sometime(somebody wanted to show me how powerful he is) only to land at KEROKA POLICE STATION.They 'booked' me with 'incitement to violence charges' then started a FISHING EXPEDITION.Was asked to hand over my phones WITH PINS AND PASSWORDS which I declined and told them that hiyo ni infringement of privacy and can only help them by unlocking my phone and have them check in my presence and YES,we did that.
They checked 'ALL CORNERS' of my phones and appeared so disappointed yet they claimed to have 'INTELLIGENCE'.They then told me 'mhesh usijali,siasa huwa hivyo,we also feel bad but tuko kazi,ingia tu.Tukipata charges tutakwambia'.They left as the shocked OB officers looked on.
I will explain the situation in the cells later on and the positives thereon.
To cut the long story short,was detained FOR NO REASON from 10am- 1am(past midnight).The OB read,'Released UNCONDITIONALLY'.
When I asked why they had to come at that hour,again with several vehicles,their answer was,mwananchi was all over the station earlier in the day demanding for my release and they didn't want confrontation with mwananchi.
NO CHARGES,NO NOTHING.Somebody showing us how he is a 'god' in Kenya.In my early 30's,one claims to have 'intelligence'that am 'TOO POWERFUL' to not only disrupt my friend Charles' dad burial,but also to heckle the president.What type of intelligence is that??So if I paid people as they claim,I got arrested ALONE,where were the 'hecklees'??
Anyway,I am out.Charged and convicted by the OP bosses with an offence of 'SUPPORTING WILLIAM RUTO' kama kawaida.On this,I am GUILTY AS CHARGED and will NOT APPEAL no matter the number of rides you choose to give me in police vehicles.You actually made me more firm.
Dr.William Ruto will be in South Mugirango this month as we deliver 2 more school buses and fundraise for ALL P.A.G Churches in SM.
Am still guilty.To those who were happy eti nilishikwa,hehehe..poleni,nilikuwa chokora years back.Its more like throwing a fish inside water.I AM OUT AND OKAY and still support DR.WSR.Kaa na hiyo 'enda pole pole' yako kwako.
To one who wanted to SHOW ME how POWERFUL he is on earth,usijali,I am HALF YOUR AGE,when you were my age,you and I know ulikuwa wapi.Twendelee tu hata sisi tutafika unless YOU WANNA KILL ME.Kunishika HAINITISHI.
May mzee Nyachae's soul R.I.P..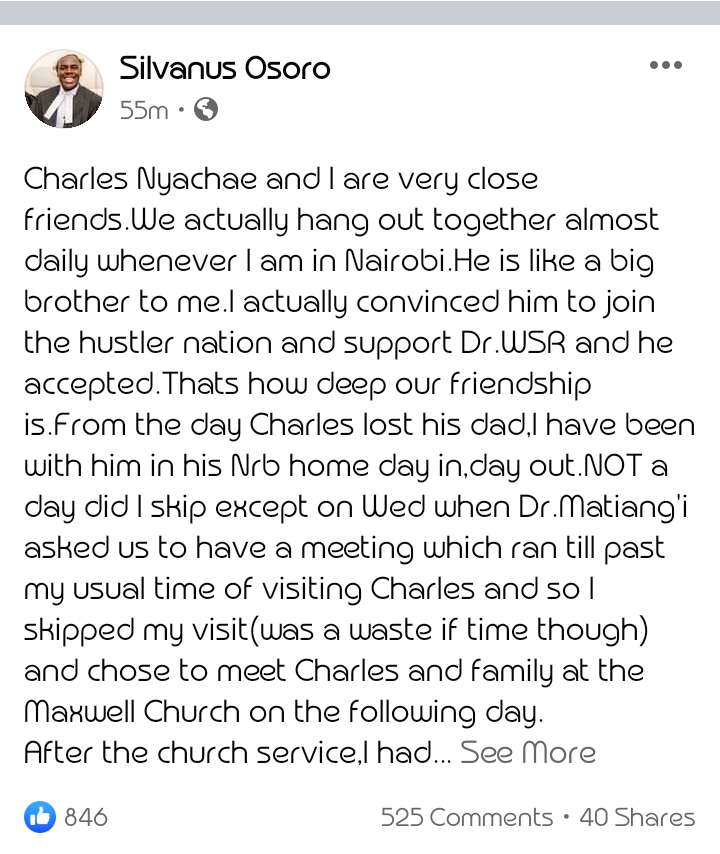 Follow, like, share and comment for more news updates.
Content created and supplied by: SkyCrapArena254 (via Opera News )