The Republic of Kenya is named after Mount Kenya. The earliest recorded version of the modern name was written by German explorer Johann Ludwig Krapf in the 19th century.
While travelling with a Kamba caravan led by the legendary long-distance trader Chief Kivoi, Krapf spotted the mountain peak and asked what it was called. Kivoi told him "Kĩ-Nyaa" or "Kĩĩma- Kĩĩnyaa", probably because the pattern of black rock and white snow on its peaks reminded him of the feathers of the male ostrich.
The Agikuyu, who inhabit the slopes of Mt. Kenya, call it Kĩrĩma Kĩrĩnyaga in Kikuyu, while the Embu call it "Kirenyaa". All three names have the same meaning.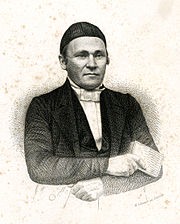 Ludwig Krapf recorded the name as both Kenia and Kegnia.Some have said that this was a precise notation of the African pronunciation /ˈkɛnjə/.
Krapf was born into a Lutheran family of farmers in southwest Germany. From his school days onward he developed his gift for languages.
He initially studied Latin, Greek, French and Italian. Other more languages were to follow throughout his life. After finishing school he joined the Basel Mission Seminary at age 17 but discontinued his studies as he had doubts about his missionary vocation.
He read theology at University of Tübingen and graduated in 1834. While working as an assistant village pastor, he met a Basel missionary who encouraged him to resume his missionary vocation.
Johann Ludwig Krapf was a German missionary in East Africa, as well as an explorer, linguist, and traveler. Krapf played an important role in exploring East Africa with Johannes Rebmann.
They were the first Europeans to see Mount Kenya with the help of Kikuyus who dwelled at its slopes and Kilimanjaro. Krapf also played a key role in exploring the East African coastline.
Content created and supplied by: Tabaka (via Opera News )