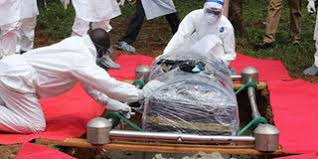 There is a video of Nairobi regional commander digging a grave of the late Senator Mohamed Yusuf Haji yesterday that has caused mixed reaction online. But to me, I still adore the luo or even the Ghanian culture where the bereaved are allowed to stay longer with their loved ones before burial. In Ghana it can take even 4 months but in Luo land, a body can stay upto to a month.
In the religions of Africa, life does not end with death but continues in another realm. The concept of life and death are not mutually exclusive concepts, and there are no clear dividing lines between them.
Death, although a dreaded event , is perceived as the beginning of a person's deeper relationship with all of creation, the complementing of life and the beginning of communication between the visible and invisible worlds. The end goal of life is to become an ancestor after death. This is why every person who dies must be given a decent burial, supported by religious ceremonies. If this is not done, the dead person may become a wondering ghost unable to live properly after death and therefore danger to those who remain alive.
It might be argued that proper death rites are more guarantee of protection for the living than to secure safe passage for the dying.
According to you, do you think that the dead can haunt the living if not accorded a decent or befeating burial?
Content created and supplied by: SammieN (via Opera News )