There are reports that most items that are bought from 'civilians', unauthorized people normally turn out to have been stolen or undergone any unlawful act.
The Directorate of Criminal Investigations (DCI) had warned all Kenyans against buying of items specifically the electronic gadgets from people with no identifiable trading premises. This includes, mobile phones, laptops, Tv sets, radios etc.
The organization has advised all Kenyans that whenever they buy such items they should make sure that they are issued with a receipt or any other tangible aporoval that clearly officiates the transactions made when buying the gadgets.
"It's risky and dangerous to buy any electronic device from suspicious outlets. Most are those who buy stolen items from armed gangsters who had violently robbed places to acquire them," DCI wrote on their official facebook page.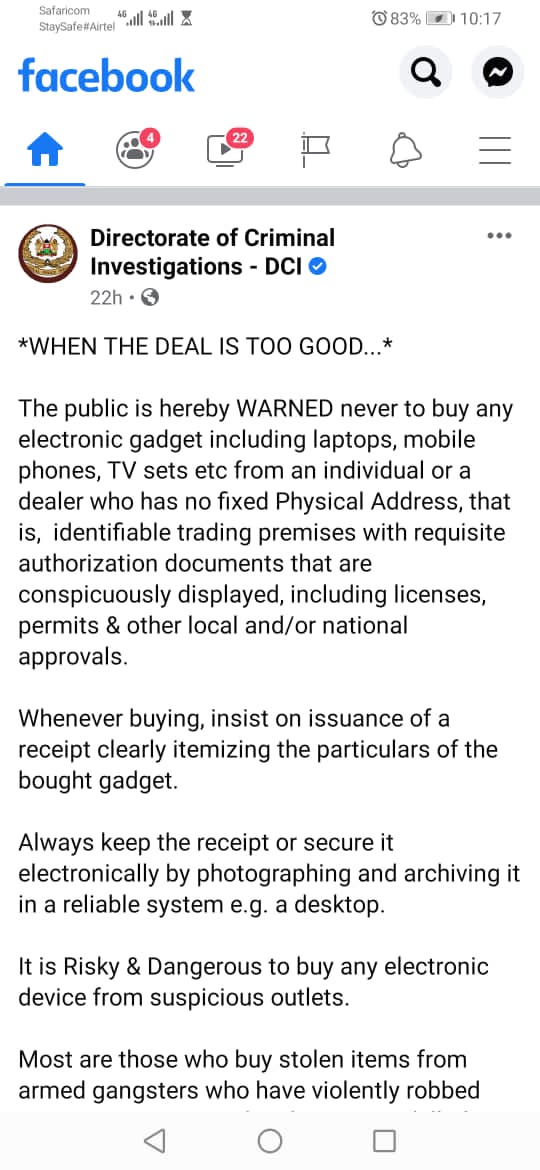 These will help in reducing the propagation of stolen items. This is because there will be no customer for the items and thus, their supply will obviously reduce as the demand also goes down.
#Stay safe, protect others
Content created and supplied by: [email protected] (via Opera News )