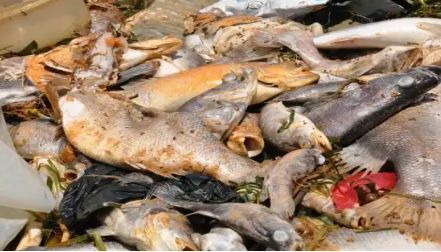 LakeVictoria has of decades served as the source of livelihood for wide range communities in the riperian countries including Kenya, Uganda, and Tanzania through the water resources obtained from it majorly fish which serves as food and through exports, earns foreign exchange and sources of government funds through taxes, but worries develops as fish have continued to be reported dying of unknown cause. The calamity is more noticeable on the landing shores of Nyanza and Western regions in Kenya, Mwanza in Tanzania and the shores of Entebbe Uganda.In Arusha, panic fills the air as dead fish again witnessed floating at the shores.
The declimation of fisheries has seemingly raise panic among the lake side communities whose livelihood is shaken.The most reported fish species is the Nile perch. Nile perch has high biological sensitivity to change in circulation and levels of oxygen and is adversely affected when oxygen levels go below two milligrams per liter of water, and this may be one of the cause of death. However members from East Africa Legislative Assembly (EaLa) who spoke virtually attributed the catastrophe to increased effluents from both the industries and neighboring homes who emmits toxic waste and pollutes the lake.  
" It is mysterious to see a large number of fish dying," said Mr. Oburu Odinga, Kenyan member of of East Africa Legislative Assembly (EaLa). He added that fish is the economic backbone and lifeline of communities living around. He also said that he could not rule out pollution of the freshwater lake with toxic waste from the expanding towns as the latest cause, that the water body in Africa has of late been subjected to toxic waste about 69,000 square kilometers.He suggested in a virtual meeting of the house that the unexplained death to be investigated and response inclined but this still continues since no effort has been made.
A lake-wide fish assessment was carried out of fish biomass in the vast water body which noticed a decline in fish which was 1.3 million tonnes in 1999-2011 and was 0.8 tonnes by 2010/2011. When restrictions for access to the lake was heightened, and increase in tonnes of fish was noticed by 2019 ranging at 2.68 millions of tonnes as it was 2.21 million tonnes by 2018. These restrictions indeed should be observed relentlessly.At the landing shores in Mwanza, the local fishermen have once again reported to have witnessed dead fish floating close to the shore
Pollution could be and is most likely the cause of the tragedy. The emission of untreated toxic waste from different industries into the inlet rivers and also pollution from lakeside communities, holds the cause of thought.These deaths will eventually reduce the fish count in the lake as fishing also continues and the resultant effect will be catastrophic. The demand for fish will overwhelm supply and this will eventually lead to starvation.  
Content created and supplied by: WillyazoSane (via Opera News )