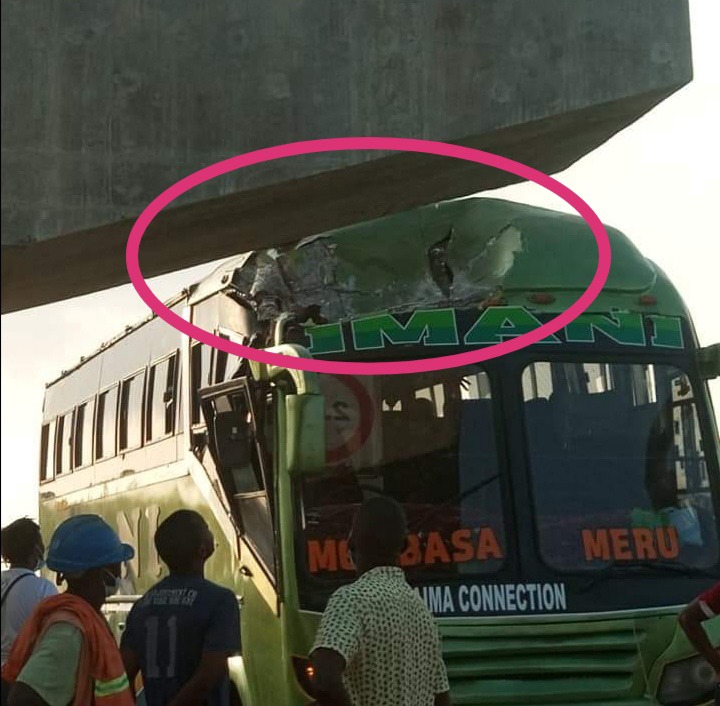 Drivers have been cautioned to be very careful when they arrive at Changamwe roundabout and not take the left line unless they measure the height of the vehicle.
This is because a psv bus hit a wall from the top because the driver did not measure the height.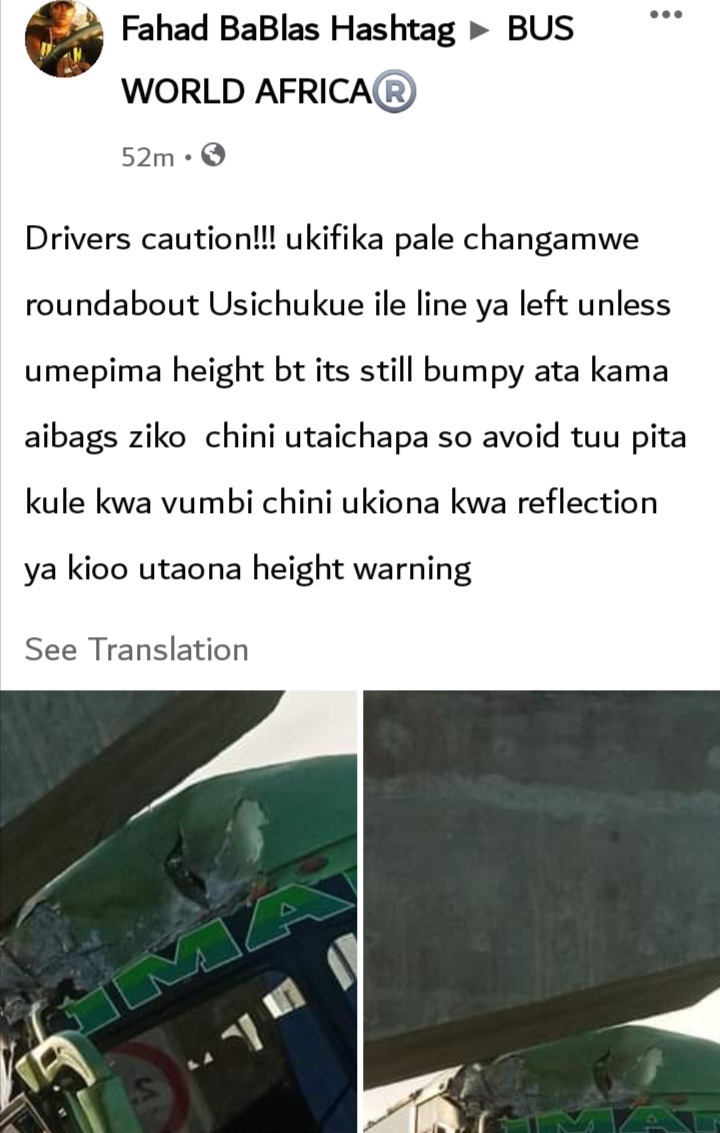 Below are reactions of the netizens :
Kimutai Kelvin
uyu nae ni fala hakuona hapo na venye hua iko chini
Farad BaBlash Hashtag
Adnan Yanuzaj sana bt to be safe kaa line ya extreem right 
Adnan Yanuzaj
Fahad BaBlas Hashtag good information
Benard Thangichu Mbugua
Fahad BaBlas Hashtag , ajali haina kinga ila kwa huyu ni kama akili zilikua mbali coz pameandika height ni 2 meters naisitoshe mahali penyewe pako vibaya upande wa kushoto kama una gari kubwa.
Fahad BaBla Hashtag
Benard Thagichu Mbuguayeah hio ni bad luck tuu bt hakuna mtu ameumia hio ndio uzuri
Kabura cool James
Mchina ameruka.. amesema ameeka sign ya height..and it's true
Fahad BaBla Hashtag
Kimutai Kevin manze sisi tunaihepa nmeona tuu amevuta akaingia hio lane nkatulia tuu nkijua hapa kuna drama thn tuna mpigia horn ana ignore 
Jared
Some drivers are stupid,a warning sign has been pasted there by the china conttactors for them to take caution.
Fahad BaBla Hashtag
Kabura Cool James mchina hakuna siku atakubali makosa bt pale angekua amefanya ile ground same gradient hayangetokea haya 
Kabura cool James
Fahad BaBlas Hashtag but huyu driver ni makosa yake..that height bana..
Fahad BaBla Hashtag
Kabura Cool James kajisahau akili haikua karibu 
Jared
Fahad BaBlas Hashtag Yap ni yeye wa kujilaumu,kwanza ngoja police wampate hapo
Fahad BaBla Hashtag
Jared nmewacha mchina amemruka amesema kuna sign 
Content created and supplied by: CREDITABLENEWS (via Opera News )