(Photo| courtesy)
Being a victim of daylight robbery is one of the worst experiences that anyone can ever wish to experience in this life. It is also painful for someone who was pretending to be needing help from you turning out to be a violent robber. This is because some of our kenyans have good hearts of helping and they never ignore street beggars.
However, an alert has been given by a facebook user by the name Pst John through a renown facebook group Nairobi Crime Free Society about these street beggars.
In his statement, John said that some young crooks along mfangano lane which connects Mfangano street and Tom mboya street always pretend to be hungry beggars and after they approach you, they manage to corner you stealing every property of yours.
Being a victim, john said that it took less than thirty minutes before the young crooks who stole from him to pounce on another victim stealing from him as he watched together with his friend.
It is therefore an urge to everyone operating around that area to be careful in order to prevent loosing your property to such crooked youths. Police officers also should be sent to the area to stop such rogue practices.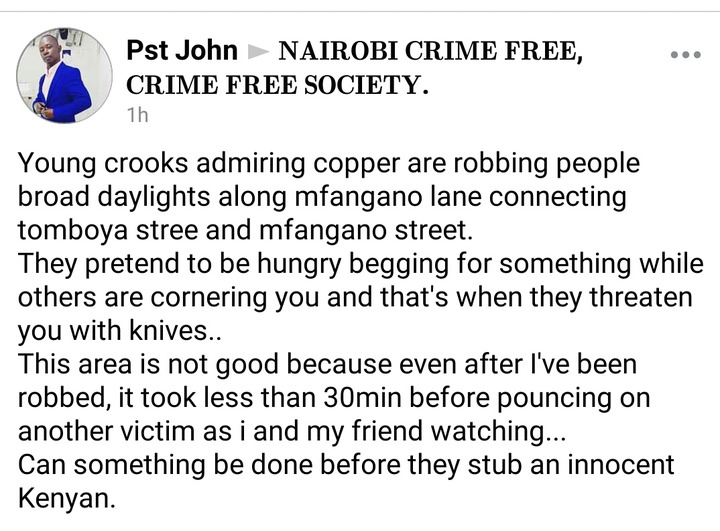 (Source screenshot)
Content created and supplied by: Obedeefanatics (via Opera News )