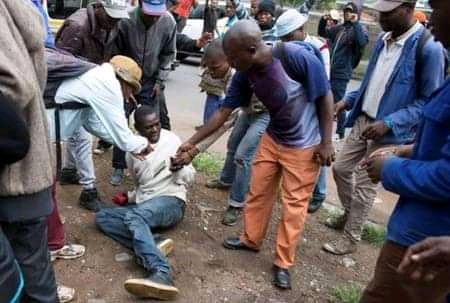 (PHOTO COURTESY/lakeside.co.ke)
man in Itete village, Matungu sub county in Kakamega county defecated himself terribly after he was caught in a romp escapade with another man's wife. It is alleged that the husband to the said woman got the news doing round about his wife having an affair with the man. He blackmailed his wife and laid a trap for the preying man who has become dangerous venom to wives in Itete village.
The woman reportedly bypassed his 'mpango wa kando' (side dish) who was slashing maize plantations and signaled him. The man unaware of what was awaiting him followed the woman to their usual meeting point, she urged the man to be patient. The delaying tactic was to give her husband ambience time to arrest the preying man.
He was surprised by a bang on the door as it slid open and her husband entered, charged and armored with a panga ready to pounce on the man. The man in shock and surprise defecated himself terribly as he was sweating profusely.
The husband demanded that the man pay him Kshs. 30, 000 to end the stalemate which had brought activities in the village to a stand still. However elders intervened as it was agreed that the man pays ksh. 2000 then the remaining amount he will clear upon the end of January.His wife on hearing the shocking news rushed to the scene, lashed several slaps to her husband and wondered why he could leave her for other women in village. His wife has since left him and is now residing at her parents' home. The man who is a bodaboda operator is now leading a low profile since whenever he passes he is treated with mockery residents.
Incidences of cheating in marriages have increased rampantly in the area raising tensions among residents as it has lead to breakage of marriages and spread of deadly and killer HIV/AIDs desease.
What's your Opinion concerning the matter? Please leave your thoughts in the comments section and follow for more news updates.
Content created and supplied by: MkenyaNews (via Opera News )