Senior Chief Waruhiu wa Kung'u was the senior chief of the Kikuyu tribe of Kenya.
He was not only an extremely rare and prototype chief that was hard to come by in the colonial days, but also one of the most loyal and distinguished participants in the colonial administration.
He was colonial Kenya's most controversial chiefs. His name has gone down in history as a traitor who was assassinated because he sold his country to the British colonizers.
It was in the year 1952, at around 12:48pm, the most senior Kenyan administrator in Kiambu District had just been shot.
One of the three men asked the man seated there "Chief Waruhiu?" Less than a minute before this daylight assassination, even before the older man could finish his answer, the questioner deftly pulled a pistol from his jacket pocket.
Then he shot the man in the back left seat. Once through the mouth. Thrice through the chest.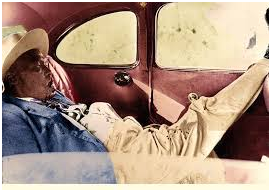 He was murdered outside of Nairobi by three Mau Mau rebels. Sir Evelyn Baring, not even a month old as Governor, declared a State of Emergency on October 20, and with it the war of independence.
Although it is believed that Waruhiu was killed by Mau Mau, there is no evidence to support that claim. Thus, the mystery of who killed Waruhiu and those behind his murder still remains unresolved and the perpetrators of the murder may never be known.
Content created and supplied by: Faithmusyoka (via Opera News )