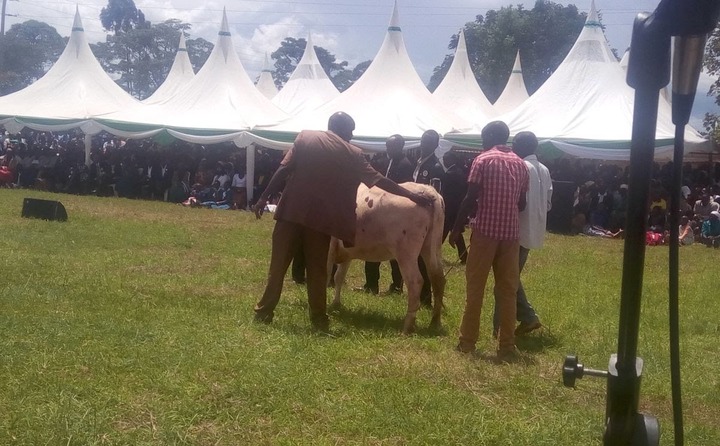 There was drama in Nyabinga area Uriri sub county, Migori county Today Feb 5, 2021 when a burial ceremony was interrupted by a bull for over one hour. The bull is Said to have intruded the event and thwarted any attempts by the locals to drive it away.
According to the locals who attended the funeral ceremony, the bull loitered on the stage, near the deceased casket for 1 hour threatening to hit anyone that came near it, a move that almost brought the event to a standstill.
Godfrey Odhiambo Adera, who identified himself as the friend to the deceased claimed that the deceased before he died had singled out the bull he loved and wanted it slaughtered on his burial day, the wish that family members ignored.
"I urged the family that the deceased had specified a particular bull to be slaughtered a request but they chose to ignore it"noted Godfrey.
Susan Adhiambo, the aunt of the deceased however stepped in to save the situation as she literally talked to the deceased explaining to him why they chose to slaughter the other bull.
"Please forgive us, we loved you so much though death stole you from us, we chose this bull because we felt it would be sufficient to feed the congregation," the aunt pleaded with the man in the casket to the shock of other mourners.
Surprisingly, after this small talk with the dead, the bull finally 'agreed' to be driven away and the burial ceremony continued.
Have you ever seen such like situation anywhere? Please leave your view in the comments section and follow for more news updates.
Content created and supplied by: MkenyaNews (via Opera News )