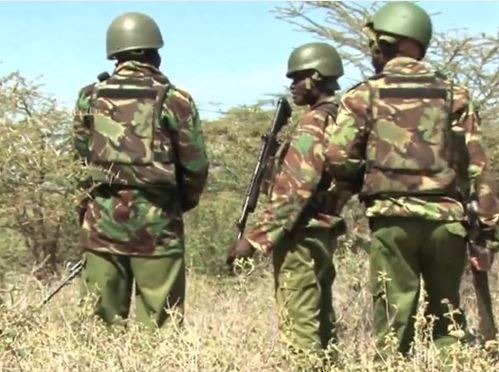 Emerging reports from the bandits-hit Kapedo say a senior police officer and his driver, a police constable have been killed after bandits ambushed them along the Kapedo bridge.
According to sources this Thursday evening, Rapid Deployment Unit (RDU) chief inspector Lekeirap and his driver, a police constable went missing this evening, only for them be found murdered.
The two were allegedly abducted by suspected bandits while on Kapedo road at Kapedo bridge before they were shot and killed.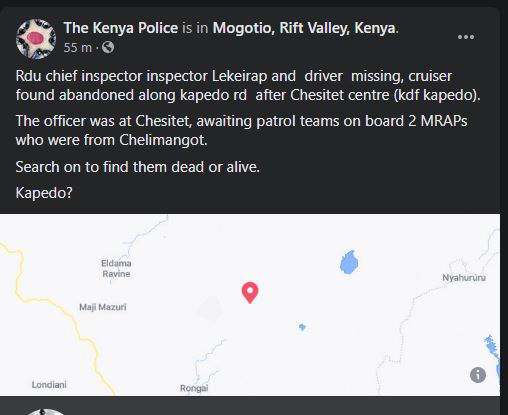 One civilian who was also on board was also shot but survived the gunshots. Their car was later found abandoned along the same road after the Chesitet centre
According to Citizen TV, the senior officer was coming from a funeral within the area, but other sources said he was waiting for other officers to join them for a normal evening patrol
The source said the senior officer was at Chesitet centre awaiting for other patrol teams who were coming from Chelimangot.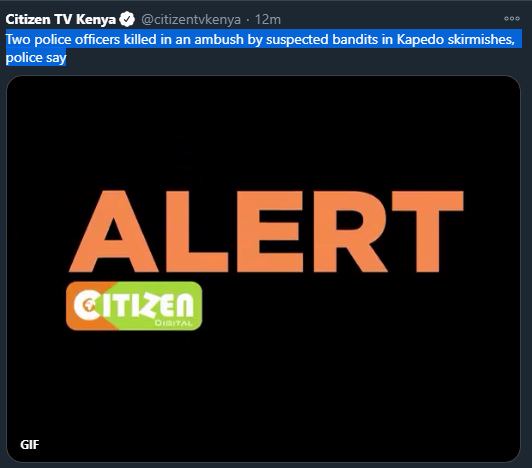 Citizen TV's 9 PM news said the officer and driver were killed on the spot while the civilian who had been given a lift was injured and taken to a nearby hospital for treatment.
"Two police officers killed in an ambush by suspected bandits in Kapedo skirmishes, police say," read the update.
Content created and supplied by: pmeja (via Opera News )