1.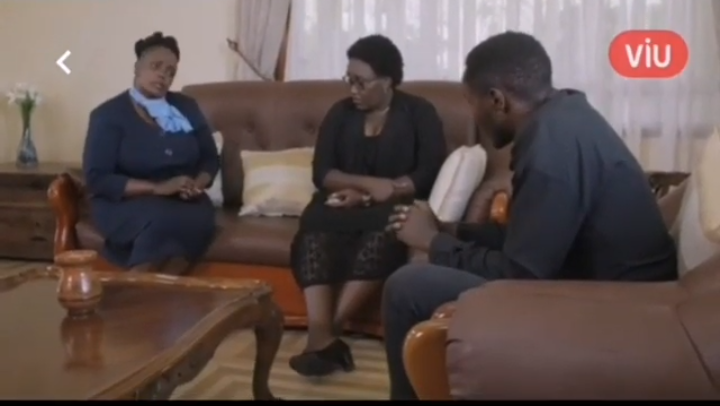 Victor tells his mother that he is now getting her point. Vicky tells him in case of any consolation, when the time comes he will just feel it. At the same time Delilah calls Victor and asks him whether he has anything to do with Daniel's death. Victor gets shocked. He tells her to hold on, then tells his mother that he has got to sort something out.
He goes outside then asks Delilah what kind of nonsense she is talking about, because he is still shocked. Victor assures her that he had nothing to do with Daniel's death. Delilah informs him that the deceased passed on a week ago, and the cause of his death has not been established yet.
Delilah also tells him that William was involved in the death of Pupa's father. Victor gets more shocked and hangs up. Vicky comes to ask him whether there's any problem.
On the other hand, Brenda claims that Luwi must be up to something, because there's no way he could have easily forgiven Victor. She tells Delilah that she hopes that the information she just shared with Victor won't be used against them as a weapon, because all she ever wants is to help Luwi.
Delilah says she is doing that to help Victor. They both start arguing because Brenda says if she loves Victor so much, why doesn't she convince to come forward and confess that all that wealth isn't his. Delilah counters by saying that if she thinks she is such a queen, why doesn't she surrender herself to the authorities for all she did against the Hausas.
Victor will have shared with Sofia the information that Delilah had given him. Sofia claims that the situation is getting more and more tricky. She reasons that the two of them weren't involved with the deaths of those two people, therefore they have got enough time to slide away without anyone ever noticing.
She continues to say that the truth is that the wealth isn't theirs, and the real owners are coming to get it along with other motives. Therefore they should escape before the law catches up with them. She suggests that they sell the house located at Runda as well as their other possessions, split up the money then leave the country for a while until things calm down.
Victor gets angry and sends away Sofia while telling her that all she knows is lusting upon other people's possessions. He tells her that the wealth is his and he plans on sharing it with no one.
2.
Silas tells Maria about Patricia's departure. Maria says she still feels guilty about Daniel's death. Silas tells her not to worry, it was God's plan. They hear a knock on the door. When Maria opens, she finds Maggie.
Maggie asks them whether they have seen her mother. Silas says they haven't. Maria asks Maggie where she has been. She says that she was kidnapped and taken to an unknown place. She claims to have heard the kidnappers say that they got the person they wanted to kill through her.
Maggie asks Maria to help her look for her mother because after all she's been through, she has learnt that family is the most important thing. Maria pretends to have accepted her then gives her a hot slap and sends her away.
In the midst of the struggle, Maggie drops the small bottle that William had given her. She is forced to drink the contents but fortunately, father Ezekiel arrives. He asks what is going on and Maggie uses the opportunity to slip away. Maria follows her. When she comes back she shows father Ezekiel the bottle and says that Maggie was just lucky.
On the other hand, William says that Maggie should deal with the two back in the ghetto, then he will deal with Victor. Meja comes to help him escape because the police are in the area.
Father says that Maggie had been sent to kill them. The question is by who? And also the story she just gave them seems to be fake. He asks them whether they could be aware of anyone else who would want Maria dead apart from William. They can only think of Sandra.
William is still on the run.
Maggie has gone back to hiding. She calls William but his phone is out of service. Salome arrives there and Maggie is happy to see her. She asks her whether she has seen William and Meja and Salome says she hasn't.
Salome says she hasn't seen for a week the people Daniel put to watch over her. That's why she came there to see her. Maggie is shocked. Salome asks what it is. Maggie says that Daniel has been dead for a week now.
Silas tells Maria and the rest that they should know that it's not only William who is after them. For that reason they should go back to Silas' because that is what Daniel would have wanted. They refuse saying that they can't go back there because everywhere is the same.
Rufina tries to convince them but Maria says no. If bad comes to worst they will deal with it. Rufina asks now that they have known the truth about William, what do they plan on doing? Do they plan on killing so that they could be known as murderers?
Maggie will have told her mother about William sending her to kill Maria. Salome asks what if they planned to set her up.
Just then a detective enters the premises asking for Marlon, also known as Meja.
Content created and supplied by: Jacinest2020 (via Opera News )