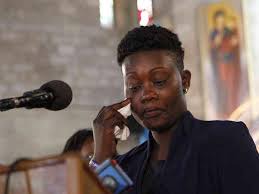 Most Kenyans have died mysteriously but the most notable one's are Chris Msando, Sergeant Kipyegon Kenei and Jacob Juma. The death of this three attracted public attention thrusting their wives into the public limelight owing they were left with nobody after the brutal murder of their husband's.
Here are three women whose husband's were murdered with their deaths remaining mysterious owing no conclusive evidence has been produced to confirm what really happened. The files of their husband's death have remained in investigative agencies with nothing tangible to bring the culprits to book ;
Eva Buyu
Eva Buyu is wife to the late Chris Msando who was murdered prior to 2017 elections in matters related to the 2017 elections. His death has however remained mysterious with the files remaining at the investigative agencies.
Eva Buyu was left to take care of the family children something she does to date. It's however something painful for the family owing they are yet to know the persons behind the murder of their father and husband Chris Msando.
Judith Kenei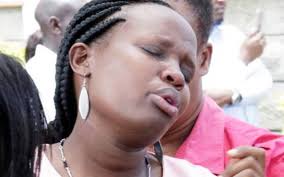 Judith Kenei is wife to the late Sergeant Kipyegon Kenei. She was left lonely a year after marriage after her husband Sergent Kipyegon Kenei was murdered in his Imara Daima house in what was viewed as connected to the fake military arms deal that happened at harambee house annex.
Judith Kenei was left with her ten day old son as well a burden in her heart owing the family as well was planning to have a wedding later 2020. Unfortunately nobody has been brought to book to answer on the murder of Kipyegon Kenei with his death remaining mysterious to date.
Miriam Wairimu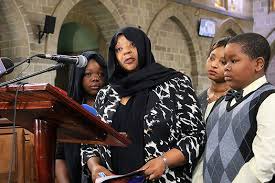 Miriam Wairimu is wife to the late Jacob Juma who was murdered sometimes back after he was sprayed bullets at along Ngong road. The death of Jacob Juma has remained mysterious to date with no iota of evidence to bring the culprits to book.
Miriam Wairimu has however focused to ensure that her children are taken care of although its painful owing nothing has been done to date years later. Miriam Wairimu has focused on matters her progress and success to ensure that her children attain their dreams as envisaged by their father whose death has remained mysterious to date.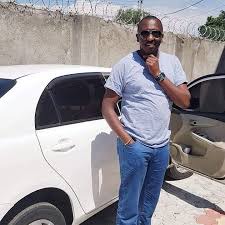 Content created and supplied by: Kautelo (via Opera News )