A 77-year-old man in Kisii hanged himself over quarrels with his 56-year-old wife. According to reports from the scene, James Onyanja took a rope and hanged himseld when his wife denied him conjugal right because it was day time.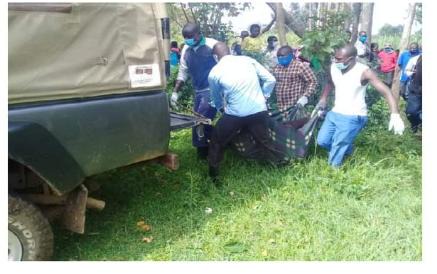 Police taking the body of the deceased
The deceased who hails from Kitutu Masaba constituency in Kisii county shocked residents when his body was found hanging in the house. Area chief Mr. Daniel Oyugi confirmed the incident and urged members of the public to have self control over such matters.
Police officers took the body of the deceased from the incident to Kisii Teaching and Referral Hospital. The body of the deceased is watering for postmortem before handed over to the family for burial.
This is not the first time that a man killed himself over conjugal right issues. There have been a number of cases. Men are advised to take precaution measures to avoid such incidents.
Content created and supplied by: Teresina (via Opera News )