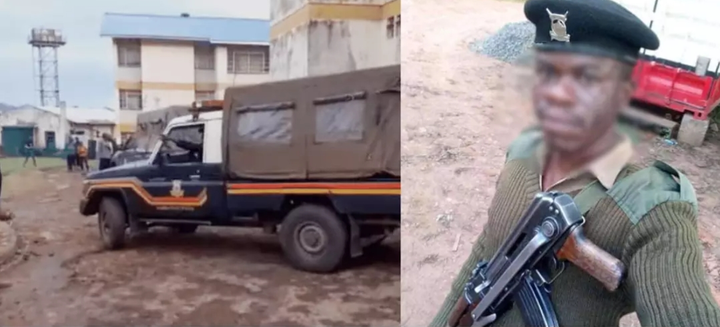 A police officer at Nyamira police station shot two of his colleagues before turning the gun on himself.
One of the shot officers succumbed to his injuries while his injured colleague is receiving treatment at Kisii Teaching and Referral Hospital.
According to a police report on the incident, the shooting perpetrator identified as Julius Mdachi disagreed with his seniors over deployment at the Governor's residence.
"Julius Mdachi who was armed with AK47 rifle cocked his rifle and started shooting at his seniors. Its alleged that APC Julius Mdachi was dissatisfied with impending redeployment and was bitter about it," said the report. "During the shooting, Nicanor Odhiambo aged 55yrs was shot on the right thigh and sustained injuries. Amani Ali aged 49yrs was also shot on the right thigh and the culprit shot himself on the lower chin and the bullet exited on the right jaw.
"They were rushed to Nyamira County Referral Hospital where sgt Amani Ali and the culprit succumbed to their injuries on arrival and their bodies preserved at the facility's morgue awaiting autopsy while Odhiambo was attended to at the facility and later referred to Kisii Teaching and Referral Hospital."
Content created and supplied by: TelegraphKenyanews (via Opera News )