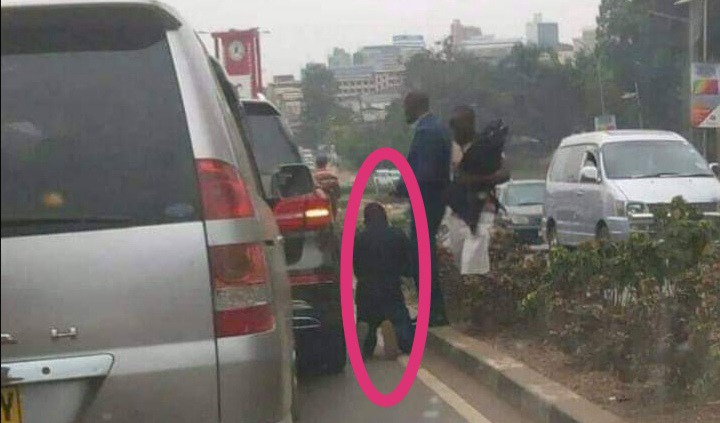 Accidents occur due to careless and reckless driving of vehicles in the roads by drivers.
Most road accidents happen because drivers don't comply to the traffic rules and regulations.
Kenyans have reacted to the man who was spotted kneeling down before the owner of the V8 vehicle after knocking it from behind.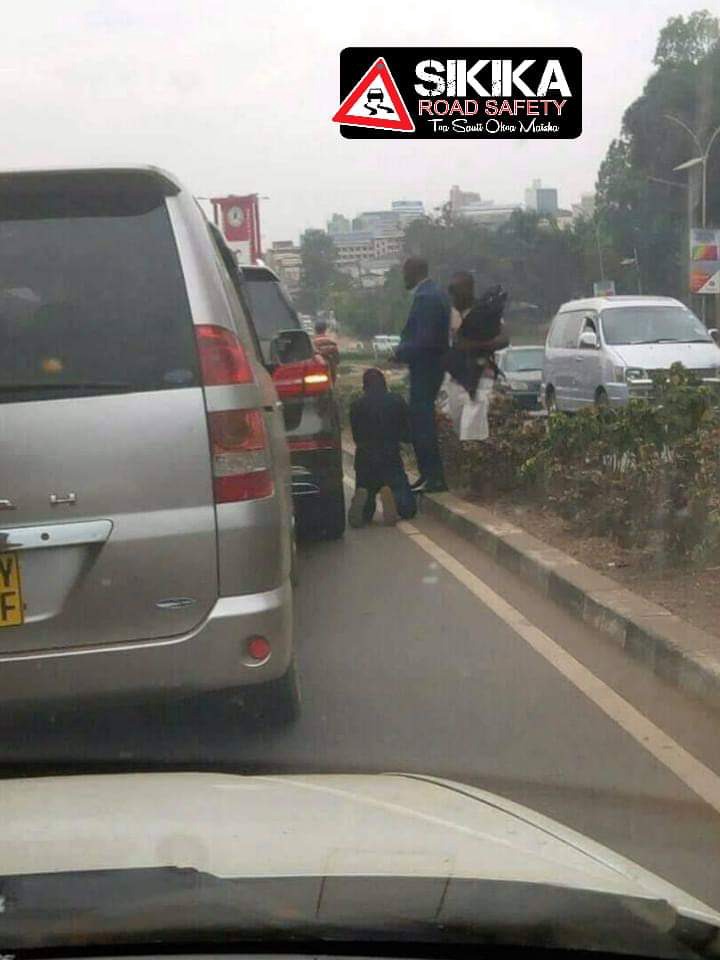 Below are reactions of the netizens :
Joy Milano Kantai
What some people doesn't know is when when case is referred to insurance u pay excess fees for matatu which I have experience is kshs 30,000 that is where kneeling might come in.
Kylite Stevoh
If God has bless you enough to buy such a car then it happens someone amegonga your car and he or she haezi afford to pay you why let someone go on his or her kneels begging for your forgiveness this is wrong Vitu zigine you let them slide roho Safi and God will bless you 
Isaac Gachuhi
We, stingy men association of Kenya, has so many tricks to avoid spending
Warren Serem
Never say #sorry to another car driver after an accident, it is an #admission of #Guilt and can be used against you in the #court of law ⚖ 
Collins Musanga Muchanji
I can't. Never will ever kneel even before the most expensive car. Accidents are the reason cars are insured.
Gachinji Ndambi - Mbuthia
I just can't imagine how it felt for that guy... all the energy it took to kneel? 😔
Mary Wachira
🤦🤦🤦🤦 insurance is there for a reason,and why kneel for another person have some dignity
Muskari Nelson Unchained
Whether on the wrong or not it does not warrant kneeling before another man
Boliony Jose
Yes keeping distance is a safety precaution but some accidents are inevitable, suppose breaks fails when approaching a traffic jam? Ajali haina kinga.
Malex Brakah
I will never ever kneel down before any human being even my boss I only kneel before the Lord Jesus Christ 
Jamleck Maina
Gari ziko na insurance brother, ama nimechukua nyundo nikagonga. That's why it's so important to have at least third-party cover
Erick Mutanya
Kwani insurance yake niyakazi ngani? mwingine alinuletea madharau juu ako na V8 nilingia Hadi Kwa viti zake za nyuma hapo na hapo akanilipa,fanya ujeuri kama uko sure brake lights sinawaka😂😂😂😂😂
Jim Henry Jimmy
The only person am entitled to kneel before is only the Almighty God... my ego cannot allow me to kneel ata kama nimekosea queen Elizabeth
Content created and supplied by: CycleNews.com (via Opera News )