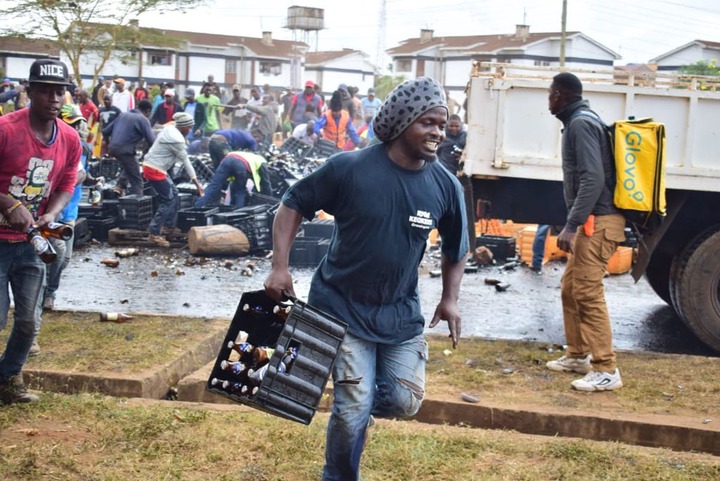 Locals scramble for bottles of beer after a truck overturned.
Residents of Maai Mahiu have been treated to an early Valentine gift after a truck full of beer overturned towards Maai Mahiu.
In a video shared online by renowned blogger Abraham Mutai, residents can be seen looting the overturned truck, with each taking what he can carry.
Residents can be seen carrying away bottles of beer in crates, using gunias while others used bags and some hide the beer in their pockets.
According to Mutai, the accident happened along the escapement towards Maai Mahiu.
"Huge traffic along escapement towards Maai Mahiu after a truck full of beer overturned. Early valentine gift for the residents," said Abraham Mutai.
It is not clear how the accident happened or whether the truck collided with another vehicle.
After the accident, a huge traffic was witnessed along this main highway which is used by both trucks and other vehicles.
Cases of looting overturned trucks carrying alcohol and other foodstuffs have been high in the country. Without the police's immediate intervention, such trucks can be looted until they are empty.
Here is the video: https://twitter.com/i/status/1360517412492349440
Content created and supplied by: WawireCornel (via Opera News )