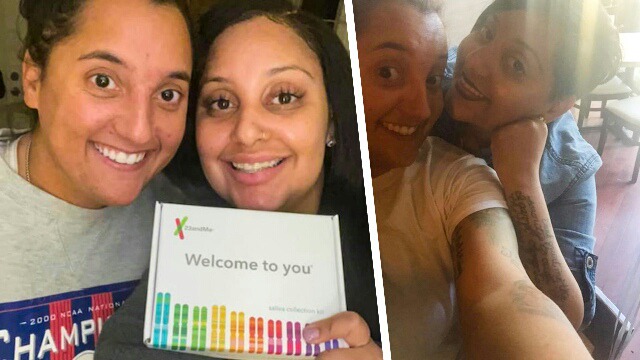 Julia left and Cassandra right. (Source courtesy)
Cassandra Madison and Julia Tinetti met while working in a Connecticut bar in 2013. Julia saw Cassandra's Dominican Republic's flag tattoo and had to know more about Cassandra.
Their bond was instant. Cassie and Julia connected over the fact that they were both adopted and raised by single mothers in the US.
Despite other people telling them they looked alike, they didn't immediately think they were related because of errors in Juliet's adoption paperwork.
Using her DNA test, Cassandra started the search for her birth family two years ago, and said that she was delighted to be welcomed to a large loving family.
Even though they went to different agencies and their adoption forms said they couldn't be sisters, Cassie still felt there was a possibility she was related to Julia.
So Cassandra asked her biological father whether he had anothet child and he said yes, a little girl. So Cassie travelled to meet with Julia and asked her to do a DNA test to find out the truth.
It was a late night phone call in January 2021 when Julia got to relay the news that their DNA matched.
Along with their biological father, Julia and Cassandra are now connected to their seven other siblings. Plus they have become aunts to several nieces and nephews. Unfortunately their biological mother died years ago.
Out of nine children, Cassandra and Julia were the only two who were given up for adoption. There have been lots of video chats since finding out the news but Julia hasn't had the chance to visit her biological family in the Dominican Republic yet due to Covid-19 restrictions.
But after nine years as friends, these sisters are definitely not strangers.
Content created and supplied by: Ledward (via Opera News )