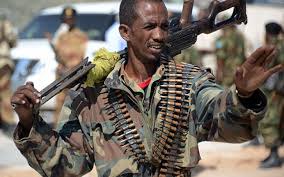 Al-Shaabab militant. [photo credit/ the Standard]
Despite the massive efforts by Militaries from different countries especially from its neighbors including Kenya, Uganda and some other countries in Africa, Europe and USA, successful war against militia in Somalia has proven to be a tough task.
Al-Shabaab, a strong Al-Qaeda linked group in Somalia has, over recent past carried out attacks both both in Somalia and North Eastern region of Kenya, leaving some locals injured and some lost their lives in the process. It was on the eve of Christmas day when a number of them were reported to have been raided by special forces while camp in Boni Forest. Since then, the seemingly dwarf group has carried out major attacks targeting both security personnel and the civilians.
Now, according to reports by Harun Maruf—a Somalia based journalist — Al-Shabaab have started attacking Charcoal Trucks in Tabeelaha region at Afgoye, Southern Somalia.
Al-Shabaab have reportedly taken over the checkpoints initially being run by locals in the region. In the end, Casualties have been reported some of whom are elders.
The fear is high that the militia might cut off access to this road they have occupied if immediate action is not taken by security forces.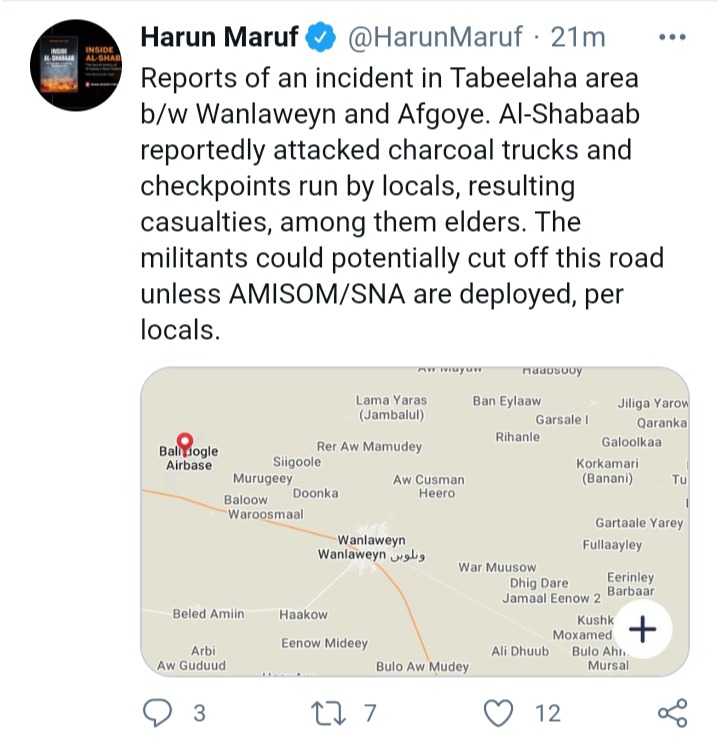 Security personnel in the nearby region including KDF and other AMISOM soldiers would have a tough job of clearing the road from the militia which despite being fought for years, have formed a thick skin of survival.
Content created and supplied by: creport (via Opera News )