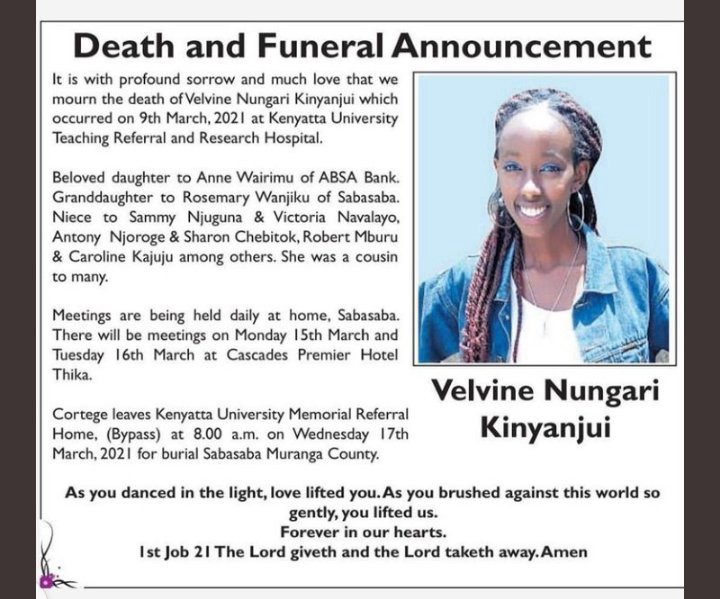 What would have been thought of as a romantic night for two lovers turned tragic after a woman aged 24 was reportedly raped mercilessly and left for dead.
The late Velvine Nungari reportedly died of rape and spinal injuries at the Kenyatta Teaching and Referral Hospital on March 9. She was laid to rest on March 17 (last Wednesday) with her friends demanding the defiler be arrested.
The manner through which she met her untimely death and the reluctance posed by the law enforcers in following up with the matter has continued gaining strength on each new day.
Ms. Velvine's close ally who sources got to know as Brenda recalled how the late telephoned her on January 23rd sharing with her the details about her date.
Through the call, the deceased requested Brenda to join them for drinks at Kahawa West. However, Ms. Brenda couldn't make it since it was too late.
The late pledged to give Brenda a call once she arrives home, something that never happened until the day that followed around lunch hour.
That day when they spoke, the deceased told Brenda how she was in trouble inside a hotel in Kiamumbi. She further shared the details of the man she was with.
Upon arrival at the hotel, Brenda and her friends sought to know about the man who they realized was familiar to the hotel fraternity, since he was a frequent visitor.
They were led to a room where they found Ms. Velvine sleeping naked on her face. She had been seriously injured. At the hospital, medical reports indicated that she had been badly raped, with her uterus ruptured.
Further, she suffered spinal injuries, an indication that she struggled with her abuser. Following an extensive online push for Velvine's justice, law enforcers managed to arrest the accused.
Investigations are ongoing, with the DCI intending to charge him over rape and murder.
Content created and supplied by: nziokajustin (via Opera News )