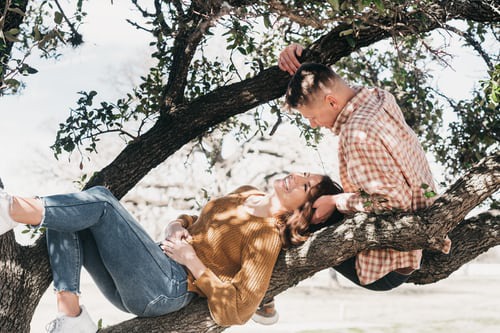 Valentine is here with us and every couple is planning to take a good moments to enjoy the love. Most couple have different styles of celebrating their valentine. It marks more of what people have gone through in togetherness. Either in marriage or relationship, there must be a time to mess and time to unite. Most times couples disagree to agree inorder to have strong bonds in love. All these can make to them to cry or laugh when they remember what they passed through. Love also have history and mostly for ladies they tend fall more for person who stood up with them during hard times. For this valentine, men it's nice to treat your wife good, get a nice place and a gift too for her. You must also tell her the following words to confirm your love to her;
1.You're forever my love and I'm so grateful for that reason I will never make you cry or spend a day without my smile.
2. You give my heart peace over and over again. I love you so much and no way I can move away from your sweet looks.
3. We've loved through it all, and that's what makes me so proud of us.
4. It's been a journey…one I'd do all over again.
5. I'm so thankful God gave me you, that God gave me us.
6. You are my Valentine every day, in every way.
7. We're growing old together with a love that's forever young.
8. These days, most people can't remember a time when we weren't us. That's a sweet, sweet thing.
9. We've loved each other through good times, rough spots and life's joys and sorrows. I'm so thankful for that.
10. From fledgling lovebirds to salty old crows, I love that we've never lost our sense of humor…or the magic that makes us us.
11. There are so many wonderful reasons I love calling you Valentine.
12. Your kindness, your strength, the way you look at me with so much love…this is why you're my Valentine.
13. Love you with all of my heart…and I've got a lot of heart. Take it easy when you miss me, I will be back home and everything will be okay dear.
Content created and supplied by: djflykicks (via Opera News )