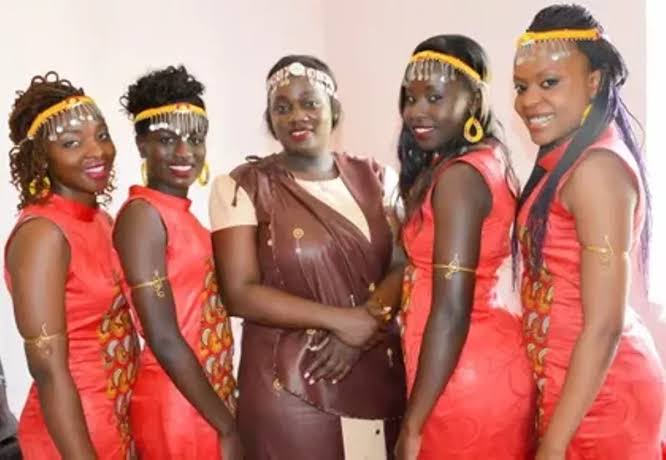 It is the prime duty of the bridegroom family to go to the bride's home officially to meet them. Here the groom is required to attend the engagement popularly known as 'Koito'. The grooms' family which include uncles, aunts, grandparents, parents and the clan are invited into the room for dowry negotiations and for the purpose of knowing each other well.A proper introduction is done to prevent getting married to your own. As for each clan in Kalenjin community, they have a name of a totem animal to represent them, they call it 'Tiondo' and a clan name, 'Oret'
When the two families are aware of their animal and clan name, they proceed to discuss dowry. 
Dowry differs amongst the Kalenjin sub-tribes. The dowry which is usually in form of cows, goats and sheep, differs depending on bride's status.
After dowry negotiations, a ceremony is held where the bridegroom and bride are guided and advised on the new family. Gifts and presents are awarded.
Wedding
The brides' family visits the grooms' to check on the agreed dowry and to escort the bride to her new home. The father to the bride wears a traditional cloak, usually of animal skin and carrying a special stick walks with the 'best man' as we might say, to the field to have a look at the cattle for dowry. After confirming, he marks them for identification.
At the dark in a room, the bride and the groom are asked to sit at the opposite sides of an officiating elder. Plaits of a certain grass are made and anointed with butter. They are blessed as four people carrying bouquets of leaves of the sacred plants form a procession of going around the bride and the groom four times. Finally, the man ties the lady and he is tied too. This is evidence that they will be faithful to their marriages. Jubilations follows and celebrations continue.Thanks for reading this article,
Content created and supplied by: Ridhaa (via Opera News )